Wisconsin Beer Cheese Soup
Wisconsin, home of so many cheeses, is the inspiration for this hearty soup that highlights bock beer and two kinds of cheddar, with its traditional garnish of popcorn and chives. Be sure to use sharp, good-quality cheeses and bock beer—the strong, dark lager's maltiness creates a depth of flavor you will not get with a lighter beer.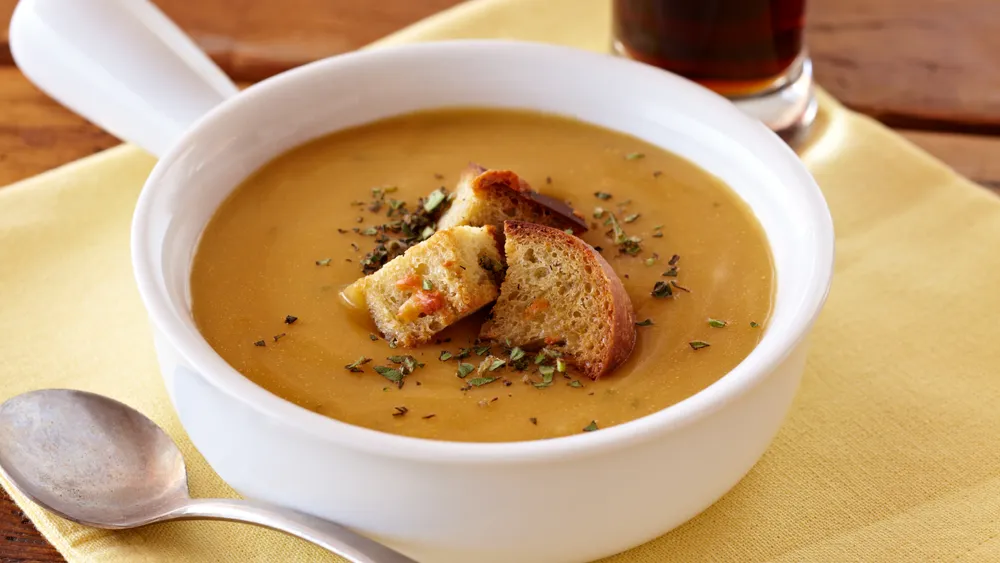 Ingredients
Soup
½ C (115 g) butter
2 med yellow onions, finely diced
4 celery ribs, finely diced
4 med carrots, finely diced
2 Tbsp (20 g) garlic, roasted and mashed
1 C (125 g) flour
12 oz (355 ml) bottle bock beer
4 C (946 ml) chicken stock
1 tsp (1 g) thyme leaves
1 bay leaf
Pinch cayenne pepper
½ tsp (1 g) smoked paprika
1 Tbsp (16 g) Dijon mustard
4 C (946 ml) heavy cream
16 oz (454 g) sharp cheddar cheese, shredded
16 oz (454 g) white cheddar cheese, shredded
Salt to taste
Plating
1½ Tbsp (5 g) chives, chopped
½ C (4 g) popped popcorn, dusted with salt and pepper
Directions
Soup
In a large pot over medium low heat, cook butter, onions, celery, carrot and garlic until softened. Add flour; cook 2 minutes, stirring constantly. Increase heat to medium, stir in beer and broth, bring to a boil and cook until slightly thickened. Add thyme, bay leaf, cayenne pepper, paprika, mustard and cream. Add cheese slowly, stirring constantly, until incorporated. Remove from heat; remove bay leaf.
Plating
Garnish with chives and popcorn just before serving.
Prep time: 20 minutes.
Cook time: 30 minutes.
Makes 16 servings.