Dutch Split Pea Soup
Healthy, hearty and packed with flavor, this Dutch version of split pea soup (known as snert), is one of the signature dishes of the Netherlands. During cold winters, small food and drink stalls called koek en zopie spring up along frozen canals serving snert to ice skaters. It is a real treat and easy to make.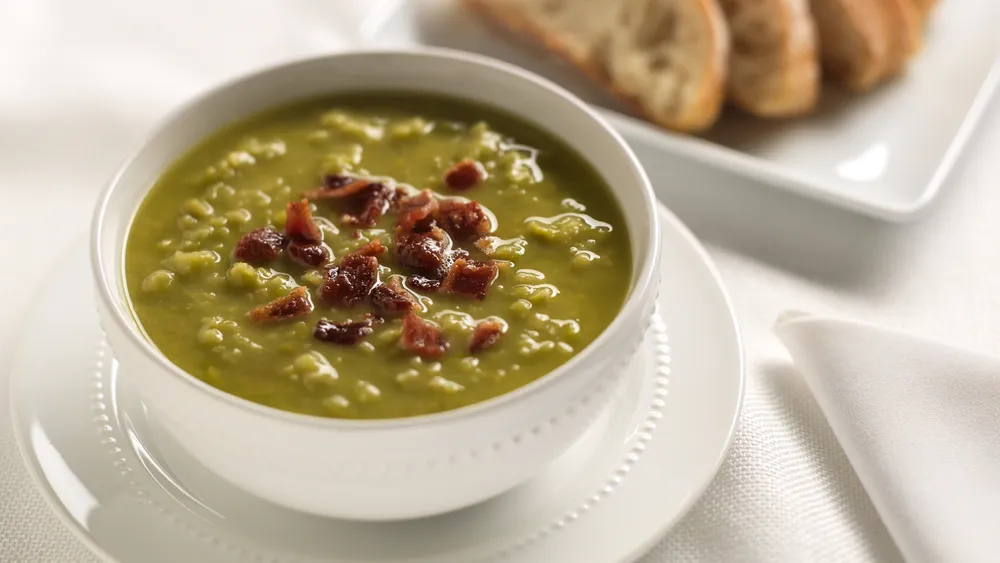 Ingredients
Soup
1 lb (454 g) dried split peas
8 C (1893 ml) low sodium chicken broth
1 med onion, diced
1 ham hock, about 1 lb (454 g)
1 bay leaf
2 tsp (10 g) salt
1½ tsp (7 g) pepper
8 slices of bacon, cooked and crumbled
Directions
Soup
Clean and rinse peas; place in medium stockpot with chicken broth. Bring to a boil over high heat; then reduce to low and simmer 10 minutes. Add onion, hock, bay leaf, salt and pepper; stir to combine. Reduce heat to low and cook about 40 minutes until peas are soft and creamy, stirring often to prevent burning and adding water or additional broth if soup thickens too much. Remove ham hock; pull meat off, chop and add back to soup. To serve, ladle into bowls and garnish with bacon.
Serving Suggestion
Excellent with chilled beer and big chunks of crusty bread.
Prep time: 5 minutes.
Cook time: 42 minutes.
Makes 8 servings.