Salade Niçoise
This salad's name, pronounced "sah LAHD nee SWAHZ," reflects its origin of Nice, France. The ingredients—particularly tomatoes, capers and olives—also harken back to the flavors of sunny Provence. Enjoy this hearty salad, substantial enough by itself for a lunch or light dinner, with a glass of chilled white wine and a crusty French epi or baguette.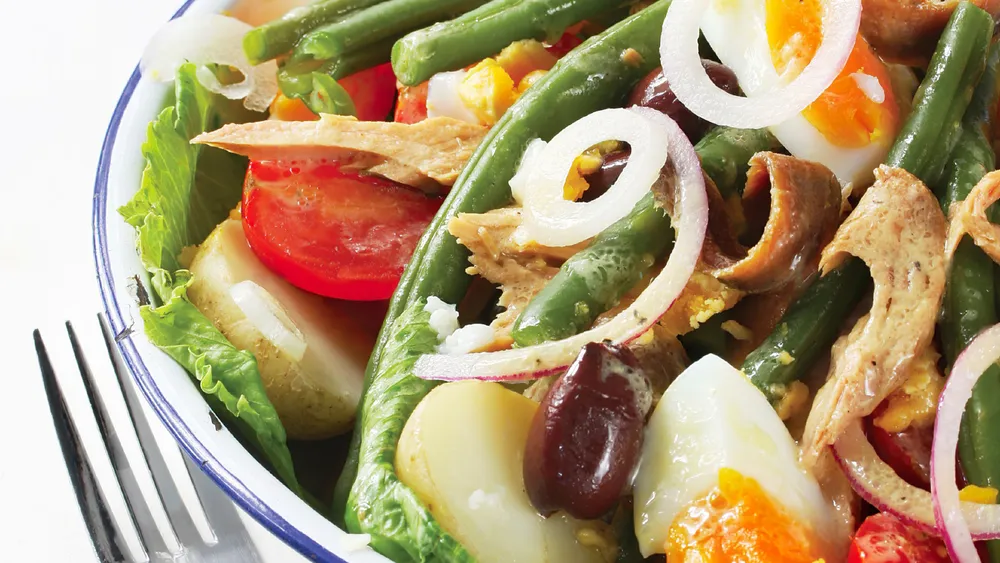 Ingredients
Vinaigrette
1½ Tbsp (23 g) shallots, minced
1 Tbsp (16 g) Dijon mustard
½ tsp (2.5 g) salt
½ tsp (2.3 g) fresh ground pepper
1 Tbsp (15 ml) fresh lemon juice
1 Tbsp (15 ml) red wine vinegar
⅔ C (144–177 ml) extra virgin olive oil
Salad
¾ lb (340 g) fresh green beans, blanched; still warm
1 sm red onion, thinly sliced
6 med Roma tomatoes, cut into wedges
6 sm potatoes, cooked and cut into wedges
1 head butter lettuce, coarsely chopped
2 3-oz (85-g) cans chunk white tuna, preferably oil-packed
6 lg eggs, hardboiled and cut into wedges
1 2-oz (56-g) can flat anchovy fillets
2 oz (56 g) small black brine-cured olives
3 Tbsp (26 g) capers, rinsed
¼ C (15 g) flat leaf parsley, minced
Directions
Vinaigrette
Place all ingredients in lidded jar; shake to combine.
Salad
Place green beans, onion, tomatoes, potatoes, and 4 T (13.5 g) of the vinaigrette in a large bowl; toss gently. Divide lettuce among 4 shallow bowls; spoon salad mixture over lettuce. Arrange tuna, egg and olives on top and add capers, parsley and anchovy. Drizzle remaining vinaigrette over each bowl.
Prep time: 35 minutes.
Makes 6 servings.