Three-Alarm Firecracker Chicken
With fresh jalapeño, dried chilies and chili garlic sauce, this dish is definitely hot and spicy! If you prefer, de-seed the jalapeño and dried chili to cut the heat some. This dish really provides a kick to the classic protein of chicken breast, and the stir-fry cooking method means it comes together in a snap.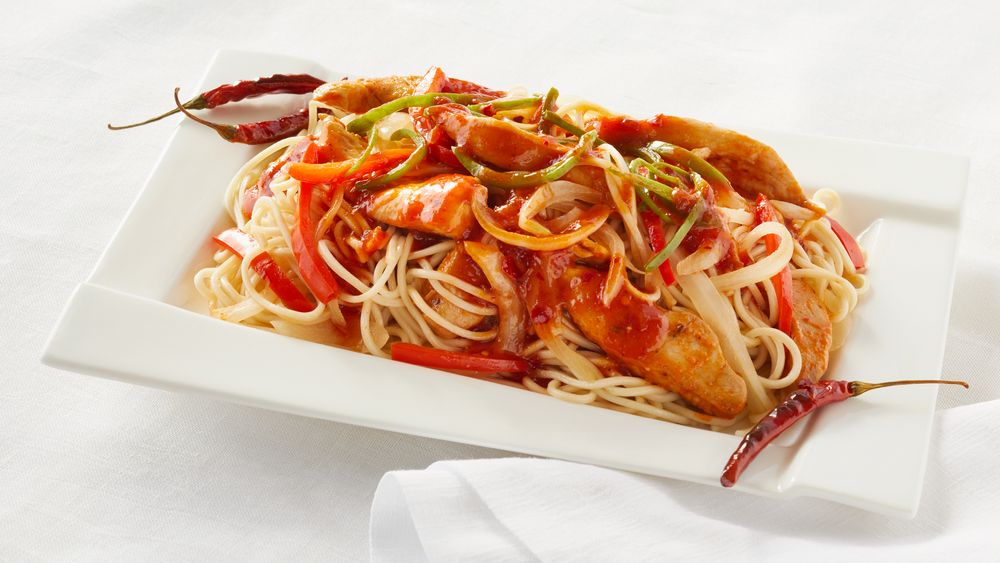 Ingredients
Marinade
1 lb (454 g) boneless, skinless chicken breasts
2 tsp (10 g) soy sauce
1 tsp (5 g) dark soy sauce
1 tsp (3 g) cornstarch
Sauce
⅓ C (75 g) ketchup
¼ C (59 ml) chicken broth
1 Tbsp (15 g) chili garlic sauce
1 tsp (4 g) sugar
1 Tbsp (15 ml) vegetable oil
1 fresh jalapeño, seeded and cut into thin strips
8 sm dried red chilies
1 med red bell pepper, julienned
½ med onion, thinly sliced
Directions
Marinade
Rinse chicken, pat dry and cut crosswise into ½-in (13-mm) wide strips. Place in a bowl with remaining marinade ingredients, stirring to coat. Let stand 10 minutes. Make sauce by combining all sauce ingredients in a small bowl and mixing well. Place a stir-fry pan over high heat until hot. Add oil, swirling to coat sides. Add fresh and dried chilies and cook, stirring constantly, until dried chilies begin to brown, about 15 seconds. Add chicken, bell pepper and onion and cook, stirring constantly, until chicken is no longer pink in center, 2–3 minutes. Remove dried chilies if desired. Add sauce, stirring to coat. Bring to a boil, remove from heat and serve hot with rice or Chinese noodles.
Prep time: 10 minutes.
Cook time: 4 minutes.
Makes 4 servings.