Beef Stroganoff
This hearty main dish originally came from 19th-century Russia and was named for the Stroganov family, whose palace can still be seen on Nevsky Prospekt in St. Petersburg. In the early versions of the recipe, mustard was included as an ingredient, but modern versions omit the mustard and instead depend on the rich texture of sour cream.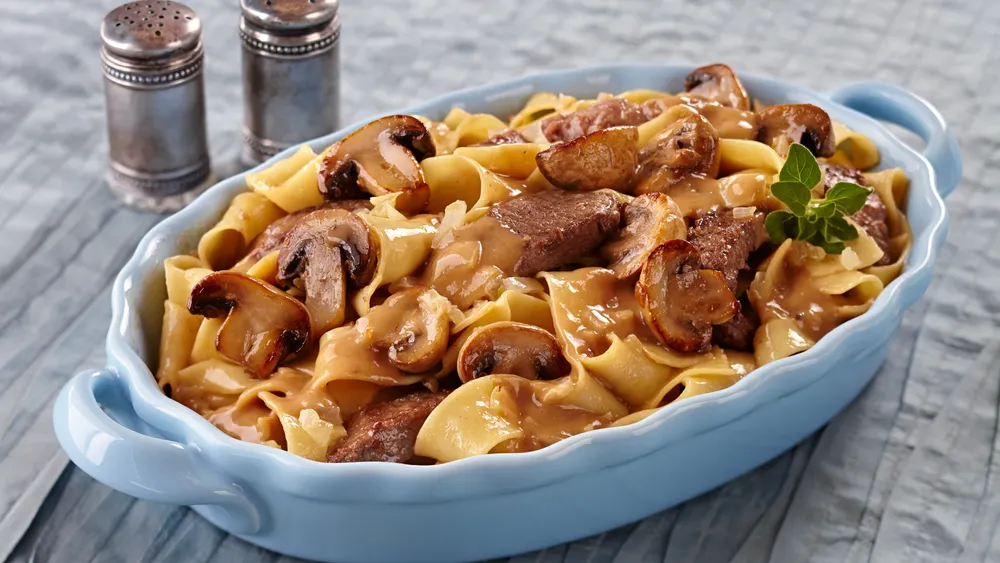 Ingredients
2 lb (0.9 kg) prime beef filet or sirloin
Salt and pepper to taste
5 Tbsp (39 g) flour, divided
1 med onion, diced
8 oz (227 g) button mushrooms, cut in half
1 Tbsp (14 g) butter
4 Tbsp (57 g) demi-glace*
2 C (470 ml) beef broth
1¼ C (150 g) sour cream
Directions
Slice meat along the grain into strips 1 inch long by ¼ inch (6.3 mm) wide; season with salt and pepper. Toss in 4 T (8 g) of flour, reserving 1 T (2 g) for sauce. In a large saucepan over medium high heat, cook meat until browned; transfer to a plate; set aside. Add onions and mushrooms to pan; continue cooking until light brown; transfer these to plate with meat. Add butter and remaining 1 T (2 g) flour to pan, stirring constantly over low heat for 2 minutes. Stir in demi-glace, beef broth and sour cream; add salt and pepper to taste. Add meat, onions and mushrooms; heat very gently on low 15 minutes (do not simmer).
Serve over buttered pasta or rice or with potato straws in the more typical Russian fashion.
*Purchase demi-glace at Williams-Sonoma, Whole Foods or amazon.com; or reduce a high-quality beef stock or consommé.
Prep time: 15 minutes.
Cook time: 30 minutes.
Makes 6 servings.