French Pear Tart
Frangipane, a sweet almond-flavored pastry cream, sets off this tart's buttery pastry and slices of fresh pear. Like so much of French cooking, this dessert is both elegant and delicious. Indeed, while all aspects of French gastronomy are renowned, it is France's wonderful pastries and baked goods that are typically the most beloved.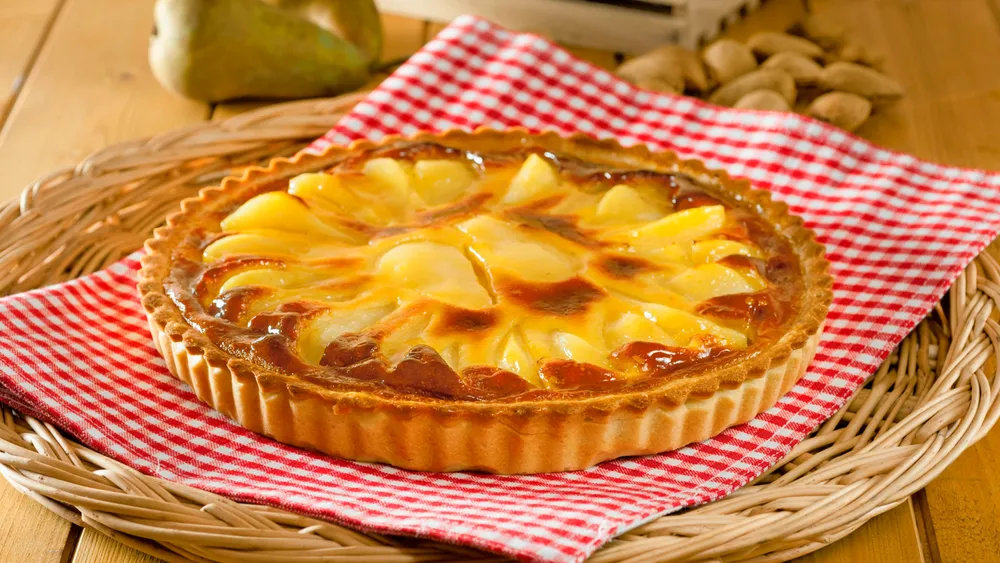 Ingredients
Pastry
1¼ C (156 g) flour, plus more for dusting
Pinch of salt
4 Tbsp (48 g) baker's sugar
½ C (115 g) unsalted butter, room temperature
2 lg egg yolks
¼ tsp (1 ml) vanilla extract
1 Tbsp (15 ml) cold water
Frangipane
⅓ C (76 g) unsalted butter
¾ C (144 g) sugar
3 lg eggs
¾ C (64 g) ground almonds
1½ Tbsp (12 g) flour
⅛ tsp (½ ml) almond extract
3 Anjou or Bartlett pears, firm-ripe
Glaze
¼ C (80 g) apricot jam
1 tsp (5 ml) lemon juice
2 tsp (10 g) slivered almonds
Directions
Pastry
Sift together flour and salt; add sugar, butter, egg yolks, vanilla and water and work together gently to form a firm dough. Cover; chill 2 hours. Roll out gently on a lightly floured surface to cover a 9-inch (23-cm) fluted quiche or tart pan. Press dough firmly into pan, cutting off any excess, and pricking bottom several times; refrigerate 20 minutes while preheating oven to 400°F (204°C). Cover dough with parchment; add pie weights or dry beans and bake 10–12 minutes. Lower oven to 375°F (190°C); remove paper and weights; bake 5 minutes more until golden. Cool; reduce oven to 350°F (176°C).
Frangipane
Cream together butter and sugar; add eggs, ground almonds, flour and extract; stir to combine.
Spoon frangipane into crust. Peel and slice pears; arrange slices attractively over frangipane. Bake 30-40 minutes or until pears are tender and lightly browned. Cool and glaze.
Glaze
In a saucepan, melt jam over low; stir in lemon juice. Remove from heat and sieve mixture; brush over pears and sprinkle with slivered almonds.
Serve with crème anglaise, fresh raspberries or vanilla ice cream.
Prep time: 25 minutes.
Cook time: 57 minutes.
Makes 8 servings.