French Gougeres
Gougères are among the most popular hors d'oeuvres in France. A traditional specialty of the Burgundy region, gougères are often made with Gruyère cheese. You can also use other cheeses (such as parmesan) to add an extra depth. Enjoy these with a glass (or two) of good French wine.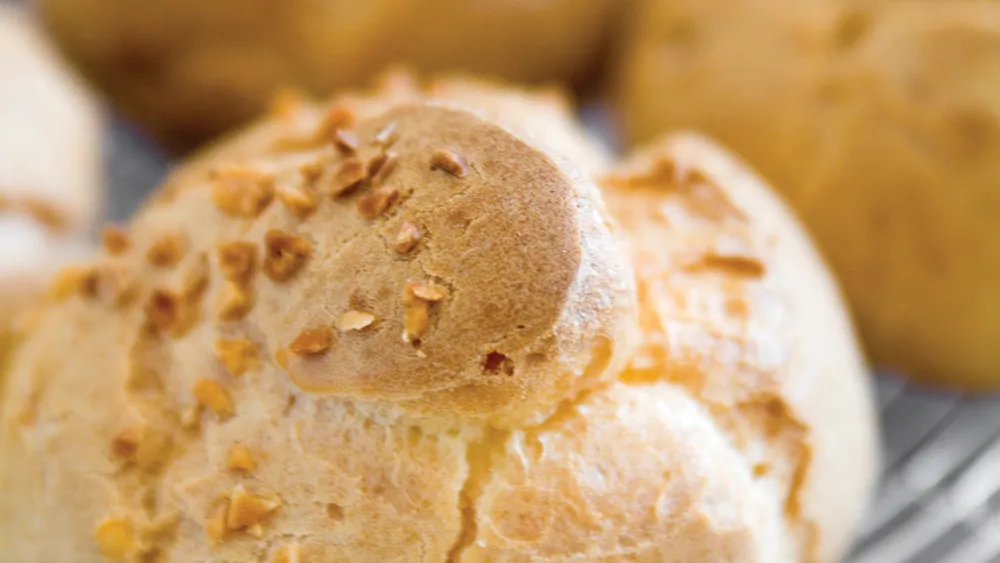 Ingredients
1½ C (350 ml) water
½ C (115 g) unsalted butter, cut into small cubes
1 tsp (5 g) salt, divided
1½ C (210 g) flour
6 eggs
1 C (130 g) grated Gruyère cheese, packed
½ C (90 g) good quality parmesan cheese, packed
½ tsp (2 g) fresh ground pepper
½ tsp (2.5 g) salt
Directions
Place one oven rack in top third and a second rack in bottom third of oven; preheat to 400°F (204°C). Line two rimmed baking sheets with lightly greased parchment paper. In a 3- or 4-qt (18- or 20-cm) saucepan over medium heat, bring water, butter and half the salt to a simmer, stirring until butter melts. Add flour all at once, stirring rapidly with a wooden spoon until mixture forms a smooth, thick paste with no lumps. Remove pan from heat; allow mixture to cool until it feels just warm. Using a hand-held mixer, beat in one egg at a time until all are incorporated. Stir in cheese, pepper and remaining salt. Drop spoonfuls of dough 3 inches (7.6 cm) apart onto prepared baking sheets. Bake until dough is puffed and golden brown, about 30 minutes, swapping position of baking pans halfway through.
Prep time: 16 minutes.
Cook time: 30 minutes.
Makes 10 servings.