Cevapcici With Tzatziki Dip
Cevapcici [che VOP chee chee] comes from the Persian kebab and Slavic diminutive ending, -cici; literally, "little kebabs." These small sausages were introduced to Europe during the Ottoman Empire. Popular in Balkan countries, these bite-sized treats are enjoyed as appetizers or with tzatziki in a sandwich, and can be cooked under the broiler or barbecued.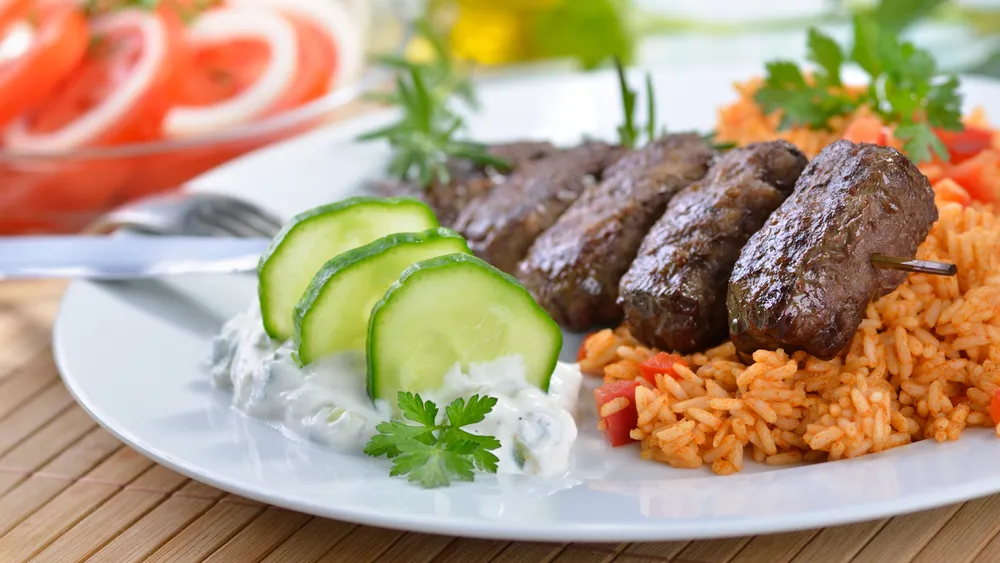 Ingredients
Tzatziki
1 lg cucumber, peeled, seeded and grated
¼ C (50 g) white onion, finely chopped
Salt and pepper to taste
2 C (490 g) nonfat Greek yogurt
1 C (237 ml) milk
1 tsp (3 g) garlic, minced
2 tsp (0.2 g) dill, finely chopped
Cevapcici
1½ lb (680 g) ground pork
½ lb (227 g) ground lamb
1 lb (454 g) lean ground beef
1 lg egg
1 Tbsp (9 g) garlic, minced
1 tsp (5 g) salt
1½ tsp (2.3 g) pepper
½ tsp (1 g) Hungarian sweet paprika
¼ tsp (0.5 g) Hungarian hot paprika, or cayenne
Directions
Tzatziki
Combine all ingredients in a bowl, mix well and refrigerate until serving.
Cevapcici
Combine all ingredients in a bowl and mix well and form into finger-sized sausages. Cook over medium flame on a lightly-greased grill, turning as needed until cooked through, about 20 minutes. Serve with tzatziki.
Prep time: 12 minutes.
Cook time: 20 minutes.
Makes 12 servings.