Russian Borscht
This beet soup is a staple of Russia and eastern Europe. Thought to have originated in Ukraine, its name is derived from Yiddish. There are as many recipes as there are cooks: it can be thick and hearty or clear and light; served hot in winter or cold in summer. This hearty version is made with beef stock.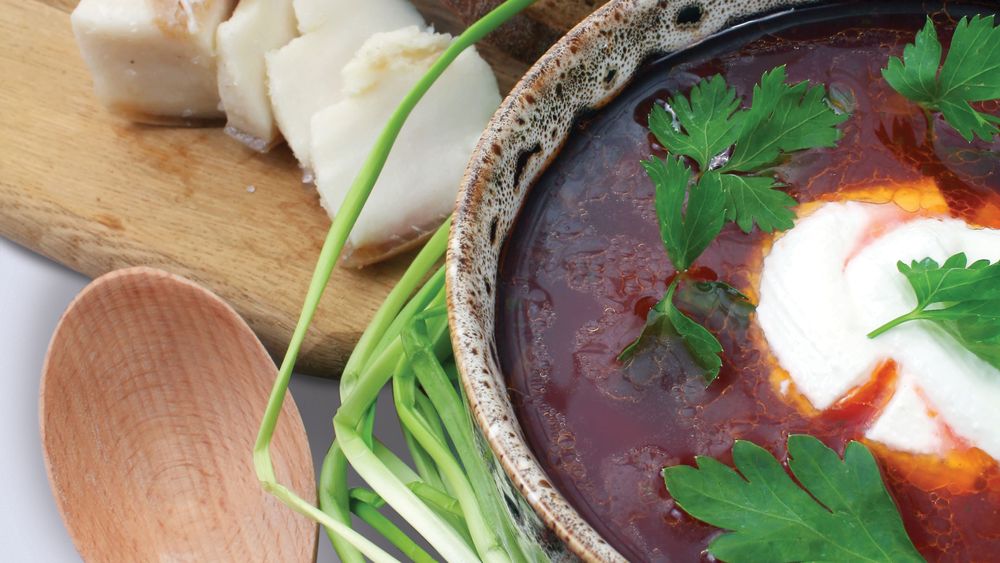 Ingredients
Soup
8 C (1893 ml) low sodium beef broth
2 C (450 ml) tomato sauce
2½ C (170 g) cabbage, shredded
½ C (35 g) carrots, shredded
1 C (100 g) onions, thinly sliced
2 tsp (8 g) sugar
2 C (300 g) raw beets, cut into strips
Salt and pepper to taste
2 tsp (10 ml) vinegar
Plating
5–6 Tbsp (38–45 g) sour cream
¼ C (2–3 g) fresh dill, finely chopped
Directions
Soup
Combine broth, tomato sauce, cabbage, carrots and onions in a large pot and bring to boil over medium heat. Stir in sugar; simmer 20 minutes, skimming occasionally, until vegetables are tender. Add beets. Season with salt and pepper; add vinegar and continue cooking until beets are tender, about 10–15 minutes.
Plating
Garnish with sour cream and dill or experiment by adding julienned beets, celery or cucumber; chopped green onions or thinly sliced red onion; curly parsley or sliced hard-boiled eggs.
Prep time: 7 minutes.
Cook time: 35 minutes.
Makes 4 servings.