Stolichny Salad
This Russian dish, often served on New Year's Eve, and also known as Olivier Salad, was invented in the 1860s by Lucien Olivier, chef of Moscow's celebrated Hermitage restaurant. It became the restaurant's signature dish—a blend of vegetables, chicken and two popular Russian staples, sausage and sour cream. Doktorskaya ("doctor sausage") is so named because of its exceptionally nutritious meat.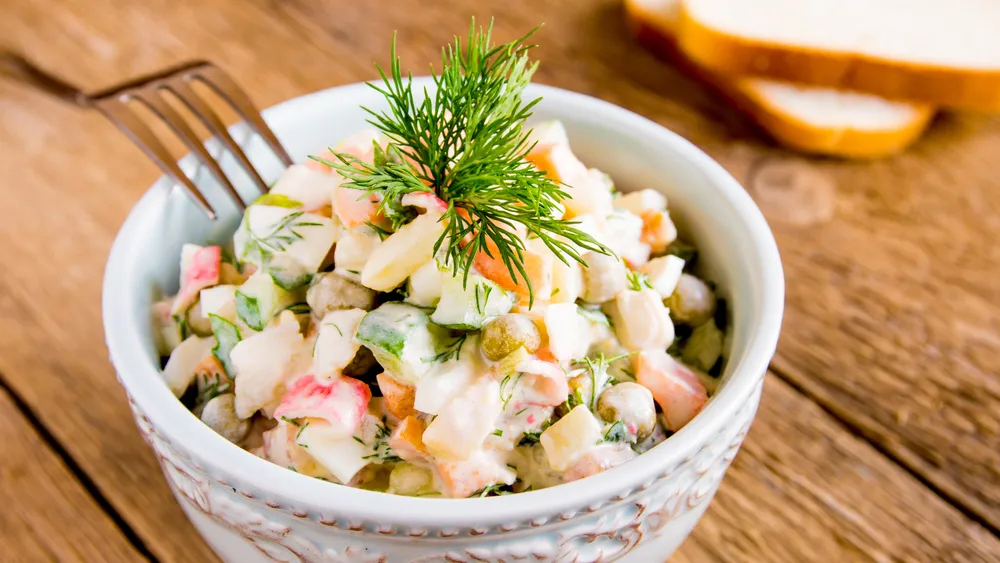 Ingredients
Diced Ingredients
4 oz (100 g) cooked chicken
2 oz (50 g) cooked Doktorskaya sausage
½ C (100 g) cooked carrots
¼ C (50 g) gherkin
½ C (100 g) cucumber
Additional Ingredients
⅓ C (50 g) cooked green peas
¼ C (50 g) mayonnaise
⅓ C (35 g) sour cream
¼ tsp (1.5 g) salt
¼ tsp (1.5 g) pepper
2 hard boiled quail eggs, cut in half
2 cherry tomatoes, cut in half
¼ C (8 g) micro greens
Directions
Diced Ingredients
Dice the following ingredients to the size of peas.
Additional Ingredients
Place all salad ingredients in a medium bowl and stir to combine. (This can be made a day ahead and kept refrigerated.) To plate, divide onto 4 salad plates, garnishing each with half a quail egg and half a cherry tomato. Sprinkle micro greens around salad; serve immediately.
Prep time: 20 minutes.
Makes 4 servings.