Viennese Beef Goulash
This Austrian beef stew with paprika and caraway seeds is a standard in Salzburg pubs and Viennese coffeehouses. Served over noodles or potatoes, it's hearty, warm and filling. While the ratio of onion and garlic to meat may surprise you, these cook down to form a savory sauce, and we are certain this dish will become one of your favorites.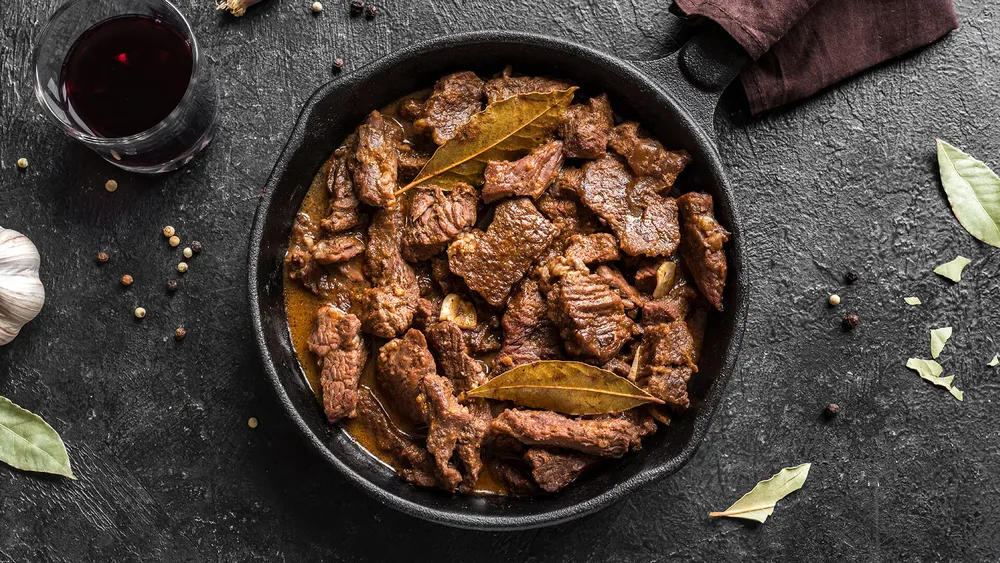 Ingredients
½ C (118 ml) vegetable oil, divided
4 med onions, finely chopped
1 head garlic, cloves separated and minced
2 lb (896 g) beef stew meat, cut into 1¼-in (3.2-cm) pieces
½ C (65 g) cornichons, minced
Peel from ½ lemon, minced
1 tsp (2 g) caraway seeds
4 Tbsp (28 g) paprika
2 Tbsp (32 g) tomato paste
2 Tbsp (30 ml) red wine vinegar
2½ C (591 ml) low sodium beef broth
2 bay leaves
Salt and pepper to taste
Directions
Heat ¼ C (59 ml) of oil in a medium pot and sauté onion and garlic over medium heat until golden brown, stirring to ensure garlic does not burn. Place remaining oil in a large skillet and sauté meat in batches until well browned. Transfer meat to pot with onion and garlic. Add all remaining ingredients, stirring well to combine. Bring to a boil, reduce heat and simmer, stirring occasionally, for 3 hours or until meat is tender. If needed, add a bit more beef stock. Before serving, discard bay leaves and adjust seasoning with additional salt and pepper.
Serve with a dollop of sour cream, or over wide egg noodles, dumplings or potatoes.
Prep time: 22 minutes.
Cook time: 3 hours 30 minutes.
Makes 6 servings.