New Orleans Red Beans And Rice
Traditionally, this dish was served on Mondays in New Orleans, both to utilize any ham bones left over from Sunday's dinner and because it required little attention while cooking. Thus, it freed up the lady of the house for the other chores at the week's start. Here we use a ham shank, and layer the depth of flavor with the addition of tasso ham and andouille.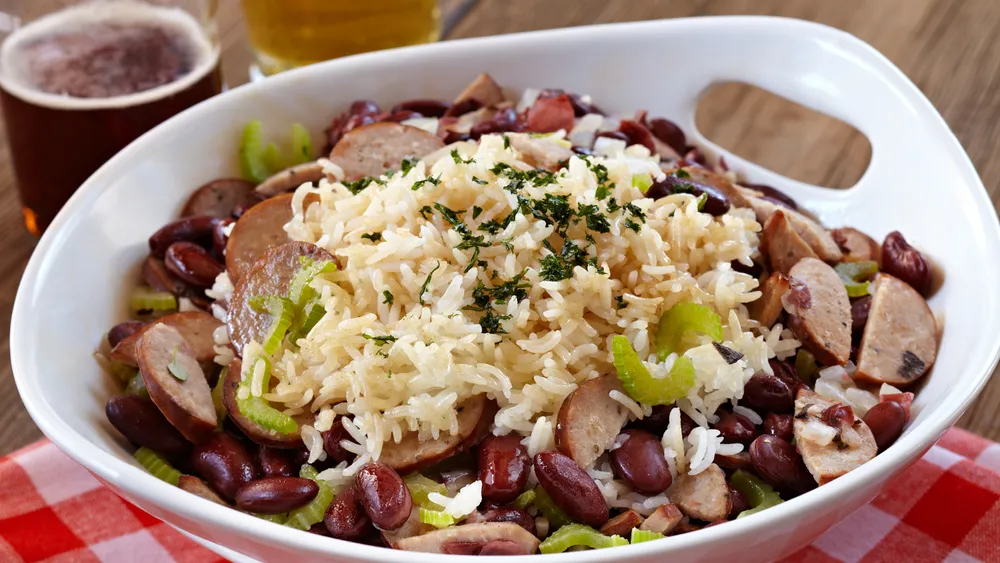 Ingredients
1 lb (454 g) dried red kidney beans
2 Tbsp (29 g) bacon drippings or butter
½ lb (227 g) andouille sausage, cut into 1-inch-thick (25-mm) slices
½ lb (227 g) smoked beef sausage, cut into ½-inch-thick (12-mm) slices
2 med yellow onions, diced
2 Tbsp (19 g) garlic clove, crushed
1 Tbsp (7 g) Creole seasoning
1 tsp (2.5 g) pepper
Pinch red pepper
2 C (473 ml) low-sodium chicken broth or vegetable stock
6 C (1420 ml) water
1 ham shank
6 oz (170 g) tasso ham
1 Tbsp (2.5 g) thyme leaves, or 1 tsp (0.9 g) dried thyme
2 bay leaves
1 sm yellow onion, finely diced
1 med green bell pepper, finely diced
1 stalk celery, finely diced
3 C (483 g) cooked white rice, hot
Garnish
1 bunch green onions, chopped
Crystal Hot Sauce to taste
Directions
Rinse and sort beans. Place in a large bowl, cover with water to 2 inches above level of beans; let soak overnight. The next day, cook bacon drippings and sausages in a stockpot over medium heat until lightly browned. Add onions, garlic, Creole seasoning, and black and red pepper; stir to combine. Cook until onions are translucent, 4-5 minutes. Add chicken broth, water, ham shank, tasso, thyme and bay leaves; bring to a boil. Drain soaked beans; add to stockpot. Boil 5 minutes, reduce heat to low; simmer 2-3 hours or until soft. Remove ½ C (120 g) of beans from pot and mash into a purée; return to pot, stirring to combine. Remove ham shank, shred meat, discard bone and return meat to stockpot. Remove and shred tasso; reserve; discard bay leaves. Stir remaining onions, pepper and celery into rice.
Garnish
Serve about 1 C (240 g) beans with ¼ C (40 g) rice, garnishing with shredded tasso and green onions; offer hot sauce to taste.
Prep time: 15 minutes.
Cook time: 3 hours.
Makes 10 servings.