Korean-Style Lamb Chops
This fiery dish is a satisfying, intense entrée and tastes great paired with rustic mashed potatoes, flash-fried asparagus or long beans. If you prefer a little more heat, try Korean chili paste in place of the chili garlic sauce. Either way, this dish is a true delight.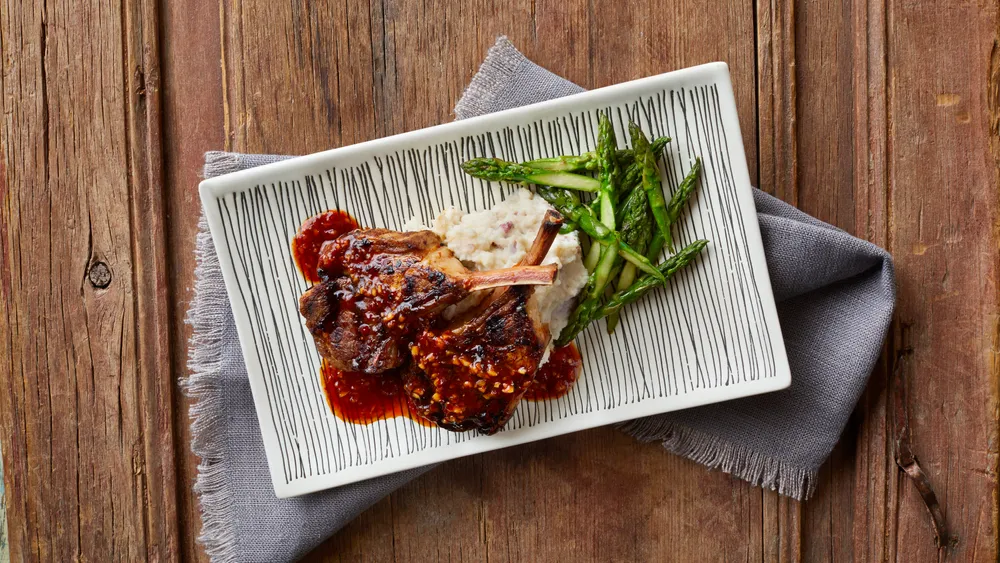 Ingredients
⅓ C (89 ml) soy sauce
1 Tbsp (15 ml) sesame oil
1 tsp (5 ml) rice vinegar
1½ Tbsp (18 g) sugar
2 tsp (15 g) chili garlic sauce or Korean chili paste
3 cloves garlic, minced
1 rack of lamb, cut into chops
1 tsp (5 ml) vegetable oil
Directions
In a medium bowl, combine soy sauce, sesame oil, vinegar, sugar, chili sauce and garlic and mix well. Add lamb; turn to coat. Let stand 10 minutes, or cover and refrigerate for up to 4 hours. Heat a grill pan over medium high heat; brush with oil. Remove lamb from marinade; pour marinade into a small saucepan. Place chops on grill and cook, turning once, until medium rare; about 6 minutes per side. Meanwhile, bring marinade to a boil over medium high heat. Cook 1 minute, stirring constantly; remove from heat. Transfer lamb chops to a serving plate and pour marinade over top.
Prep time: 14 minutes.
Cook time: 12 minutes.
Makes 4 servings, serving size is 2 chops.