Twin Ginger Shortbread Cookies
If you love ginger, you will enjoy these rich shortbread cookies with both fresh and crystallized ginger. Chopped glazed walnuts add extra crunch, but regular walnuts can be substituted. Be sure to use a good-quality butter, as the flavor of it will come through. These are delicious with tea of any kind.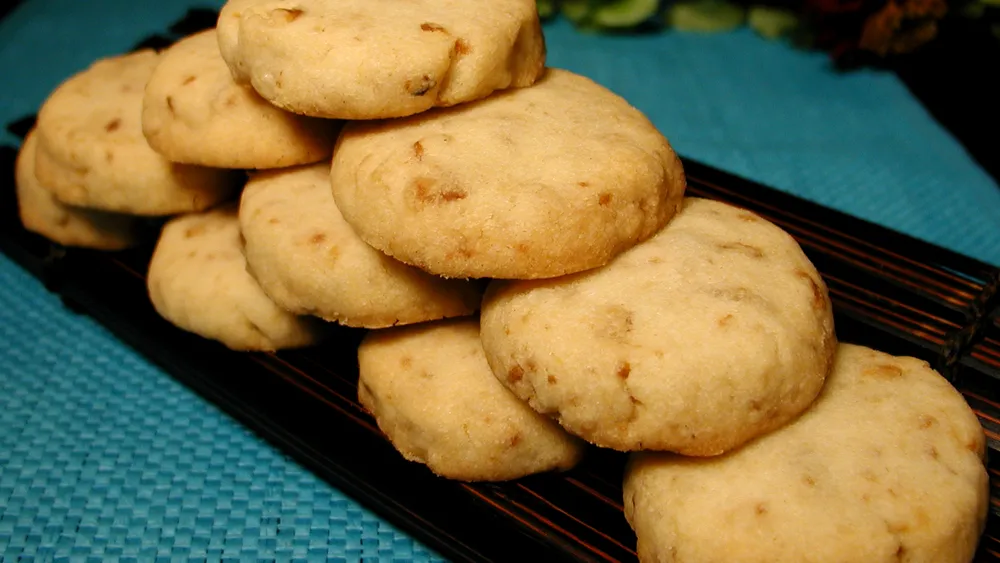 Ingredients
1 C (230 g) unsalted butter, at room temperature
½ C (96 g) sugar
⅓ C (80 g) crystallized ginger, chopped
1 Tbsp (14 g) ginger, grated
½ C (58 g) prepared glazed walnuts, chopped
2 C (250 g) flour
¼ tsp (1 g) salt
Directions
Preheat oven to 350°F (177°C). Cream together butter and sugar until light and fluffy, about 2 minutes, add crystallized ginger, grated ginger and walnuts, mixing until incorporated; add flour and salt; beat on low until mixture forms a dough. Using your hands, shape into 1⅓-in (3.4-cm) balls; place 2 inches (5.1 cm) apart on ungreased baking sheets. Using your fingers, press balls into thick disks. Bake until lightly browned, about 20 minutes. Cool on baking sheet 5 minutes; then transfer to a wire rack to cool completely. Store airtight up to 2 weeks.
Prep time: 10 minutes.
Cook time: 20 minutes.
Makes 2 dozen cookies, serving size is 2 cookies.