Strawberry Tart
This elegant dessert is a deconstructed tart that is enhanced by the subtle flavors of vanilla, strawberry, champagne and Specht Kirschwasser, a German clear cherry brandy.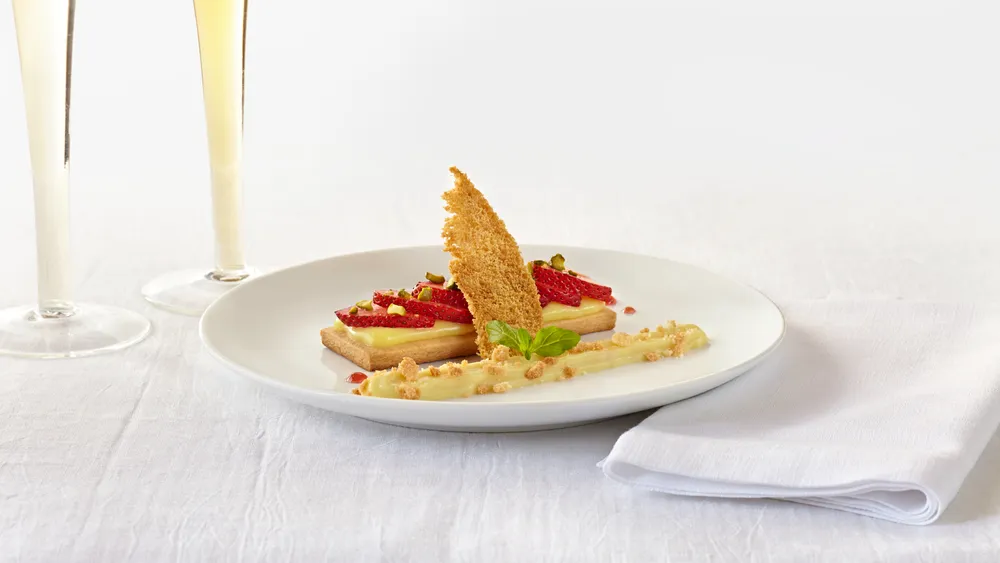 Ingredients
Basic Pastry Cream
¾ C (177 ml) milk, divided
2 lg egg yolks
¼ C (48 g) sugar
5 tsp (16 g) cornstarch
½ tsp (2.5 ml) vanilla extract
Champagne Mascarpone
9 Tbsp (133 ml) champagne
2½ tsp (6 g) powdered gelatin (about 1 pkg) or ¼ oz (6 g) gelatin sheet
2¼ Tbsp (33 ml) Basic Pastry Cream
2½ tsp (13 ml) dulce de leche
½ C (133 g) mascarpone
Champagne Pastry Cream
⅞ C (200 ml) Basic Pastry Cream
2½ tsp (12 ml) champagne
2½ tsp (12 ml) Specht Kirschwasser
1 tsp (5 ml) lemon juice
Assembly
12 Sablés Bretons or shortbread cookies
2 C (330 g) strawberries, sliced
6 Melba toasts
1 tsp (5 ml) frozen strawberry purée, thawed
6 sm basil sprigs
1¼ tsp (3 g) pistachio nuts, finely chopped
Directions
Basic Pastry Cream
Place ¼ C (60 g) of the milk, the egg yolks, half the sugar and the cornstarch in a medium bowl; whisk to combine. Place remaining milk, sugar and vanilla in a small saucepan over medium; bring to a simmer without stirring. Remove from heat; whisk to combine. Gradually pour hot mixture into yolk mixture, whisking constantly. Return to saucepan; continue whisking until mixture bubbles and thickens, about 1 minute. Remove from heat; continue whisking until smooth and creamy. Transfer to a bowl; cover with plastic wrap, pressing wrap against mixture surface. Chill until cold, about 4 hours. Can be made up to 4 days in advance and kept covered and refrigerated.
Champagne Mascarpone
Place champagne in a small saucepan, sprinkle with gelatin; let stand until gelatin begins to dissolve, 5–7 minutes. Cook on low, stirring constantly, until just warm, about 1 minute. Remove from heat; cool 5 minutes. Transfer to a medium bowl; add pastry cream, dulce de leche and mascarpone, stirring to combine. (Alternately, if using gelatin leaves, place in a shallow bowl; cover with cold water; let stand until soft, about 7 minutes. Remove from water; wring out excess liquid; add to champagne and stir until gelatin has dissolved. Add to medium bowl with other components and fold gently to combine.) Place in a pastry bag fitted with a round tip and set aside.
Champagne Pastry Cream
Place pastry cream in a small bowl and slowly whisk in champagne. Add Specht Kirschwasser and lemon juice, whisking until combined; transfer to a small pastry bag fitted with a round or star tip.
Assembly
Pipe champagne pastry cream onto 6 cookies; place on serving plates; top with strawberries. Pipe a long line of champagne mascarpone next to cookie. Crumble remaining cookies and sprinkle over champagne mascarpone. Garnish with Melba toast, drops of strawberry purée, basil and chopped pistachio.
Prep time: 30 minutes.
Cook time: 3 minutes.
Makes 6 servings.