Chocolate Truffles
Delightfully easy to make, these chocolate truffles are a fabulous holiday gift. Rich and decadent, they can be a dessert unto themselves, or an excellent accompaniment to an espresso. Be sure to use a good quality of chocolate as the flavor of the final candies will be dependent upon this.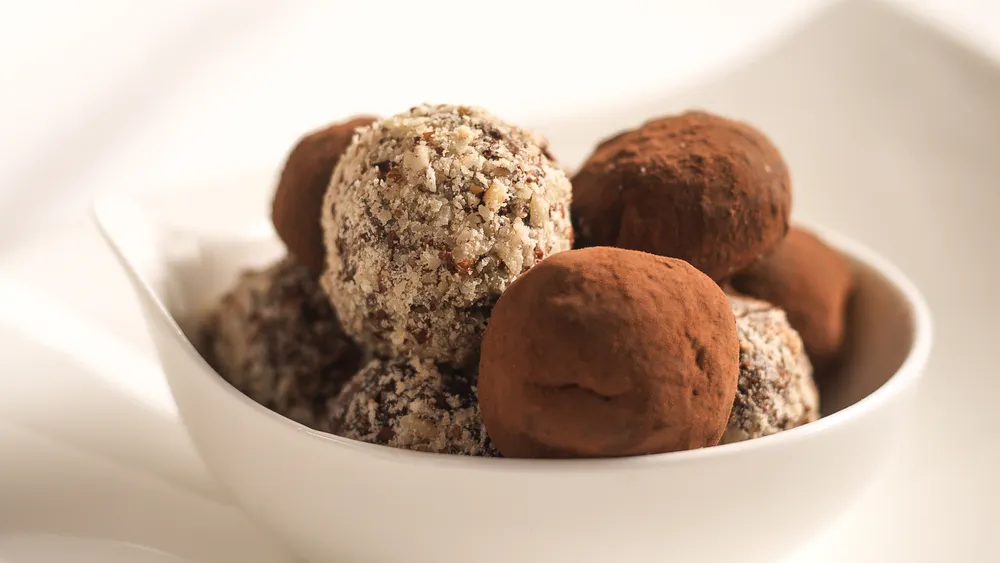 Ingredients
16 oz (454 g) Valrhona or Scharffen Berger semisweet or dark chocolate
1 C (237 ml) heavy cream
½ tsp (2.5 g) black currant extract
½ C (56 g) Valrhona or Scharffen Berger unsweetened cocoa powder*
Directions
Line a baking sheet with waxed paper; set aside. In a food processer, pulse chocolate into small pieces. Heat cream in a small heavy saucepan over medium low until bubbles begin to appear around pan edges and cream begins to steam. Pour cream over chocolate in food processor. Let stand 10 minutes, then blend until smooth. Add extract; pulsing to blend. Pour into a shallow bowl, cover and refrigerate until firm, about 3 hours. Using a spoon, scoop out mixture and quickly roll into rough balls. Place on baking sheet; if very soft, refrigerate another 30 minutes. Place cocoa powder in a shallow bowl; roll balls in cocoa to coat. Refrigerate in an airtight container up to 2 weeks. Serve at room temperature.
*You can also replace the cocoa powder with hazelnut or walnut meal.
Prep time: 20 minutes.
Makes 2 dozen.