Bulgarian Rice Pudding
This oriz puding is easy to make and likely will become a favorite. The lemon zest adds a freshness to the pudding, and the rose-pistachio garnish is lovely. You can serve this while still warm, or at room temperature; just refrigerate any leftovers.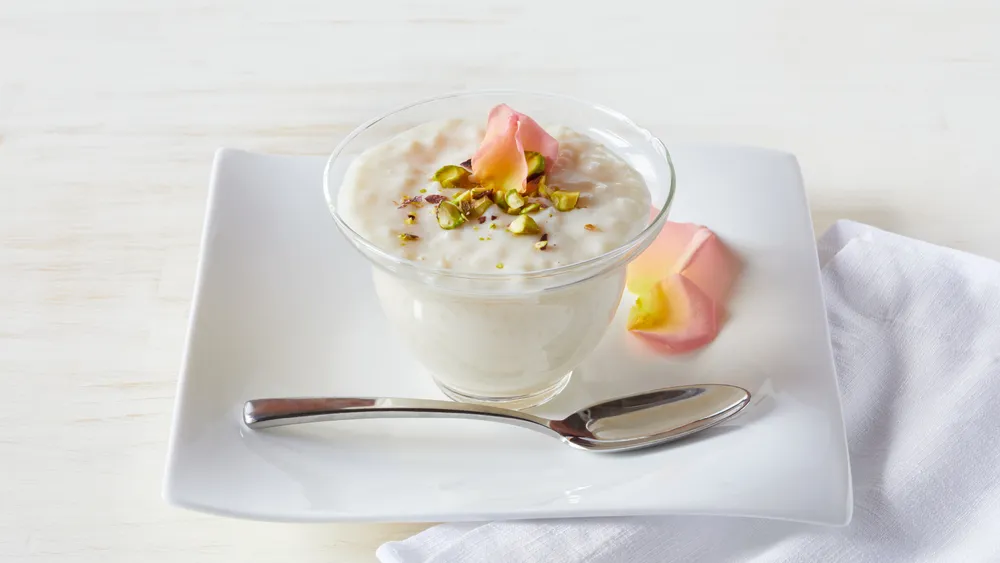 Ingredients
Pudding
½ C (105 g) short grain white rice
3 Tbsp (36 g) sugar
3¾ C (887 ml) milk
2 Tbsp (29 g) unsalted butter
1 cinnamon stick
1 strip lemon zest
Garnish
2 Tbsp (20 g) pistachios
Petals from 1 sm organic rose
Directions
Pudding
Place rice, sugar, milk, butter, cinnamon and lemon zest in a large, heavy-bottomed saucepan. Cook over very low heat; do not let it boil, and stir frequently for 45 minutes to 1 hour, or until mixture is creamy and thick and the rice is tender. Discard cinnamon stick and zest.
Prep time: 5 minutes.
Cook time: 1 hour.
Makes 4 servings.