Rustic Fried Green Tomatoes with Cajun Beurre Blanc
Summertime brings everyone's favorite treat—homegrown tomatoes. However, invariably a few at the end of the season do not ripen, and this is a delicious way to use these unripe fruits. Our version of this true Southern classic takes fried green tomatoes to a whole new level, pairing a Cajun-spiced cornmeal crust with a cream sauce and poached crawfish.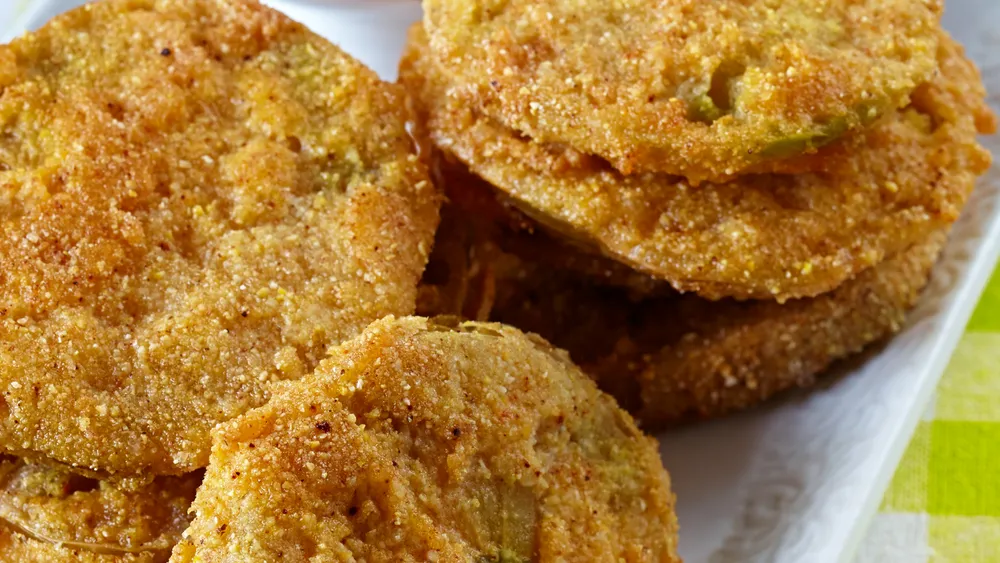 Ingredients
Tomatoes
6 med green tomatoes
1 tsp (15 g) salt
1 tsp (7 g) pepper
1 C (237 ml) buttermilk
2 lg eggs, beaten
2 C (250 g) flour
1 C (151 g) cornstarch
1 C (170 g) cornmeal
1 tsp (10 g) garlic powder
Peanut or canola oil for frying
Crawfish
2 Tbsp (30 ml) water
Dash Worcestershire
1 tsp (2 g) lemon zest
2 Tbsp (29 g) unsalted butter, room temperature
1 lb (454 g) crawfish tails (or small shrimp)
Cajun Beurre Blanc Sauce
2 Tbsp (30 ml) dry white wine
2 tsp (10 ml) white wine vinegar
4 black peppercorns
1 shallot, minced
1 bay leaf
2 tsp (10 ml) heavy cream
8 oz (227 g) unsalted butter, cold, cut into cubes
1 tsp (5 ml) lemon juice
Dash Worcestershire
Dash Crystal Hot Sauce
Kosher salt to taste
Directions
Tomatoes
Preheat oven to 200˚F (93°C). Slice tomatoes ¼ inch (6 mm) thick; sprinkle with salt and pepper; set aside. Wash and drain crawfish; refrigerate. Stir together buttermilk and eggs in a shallow bowl; place flour in another bowl; stir together cornstarch, cornmeal and garlic powder in a third bowl. In a large frying pan, heat ⅛-inch-deep layer of peanut oil to 350˚F (177°C) over medium heat. Lightly coat each tomato slice in flour; dip in buttermilk, then cornstarch mixture. In batches, gently cook tomatoes until golden brown, approximately 1-2 minutes; turn gently and cook another 1-2 minutes. Drain on paper towels; keep warm in oven until ready to serve.
Crawfish
Combine water, Worcestershire and lemon zest in a large sauté pan over medium heat. Slowly whisk in butter until incorporated. Bring to a simmer; add crawfish, tossing gently until cooked through, 5–7 minutes.
Cajun Beurre Blanc Sauce
Place wine, vinegar, peppercorns, shallots and bay leaf in a small saucepan over medium high. Bring to a boil; cook until very thick and reduced by ¾, about 3 minutes. Stir in cream; cook until thickened, about 3 minutes. Reduce to low; add butter, one cube at a time, whisking constantly until two pieces of butter remain. Remove from heat and continue whisking in last two cubes of butter. Add lemon juice, Worcestershire, hot sauce and salt to taste, stirring to combine. Pass through a fine sieve.
Plating
Place 3 or 4 slices of tomato on each plate. Spoon crawfish and sauce over the top, and dust entire plate lightly with Cajun spice.
Prep time: 45 minutes.
Cook time: 1 hour.
Makes 6 servings.