Pot Stickers
These delicious little Chinese dumplings are a traditional treat during Chinese New Year, filled with meat or vegetables, then cooked by steaming, poaching or frying. Consider doubling or tripling the recipe and freezing some (uncooked) for a great "go-to" fast meal—just drop them into hot broth, add a few veggies, and you have a hearty, warming soup.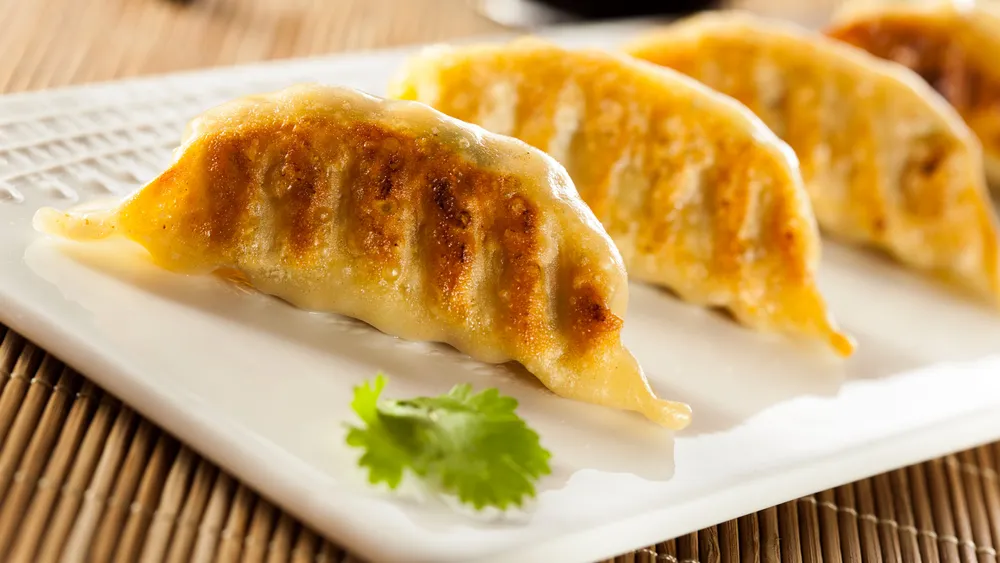 Ingredients
Dumpling
½ lb (227 g) ground pork or turkey
2 green onions, minced
2 Tbsp (25 g) bamboo shoots, minced
1 tsp (5 g) ginger, minced
1 Tbsp (9 g) cornstarch
2 tsp (10 ml) soy sauce
⅛ tsp (0.33 g) white pepper
flour for dusting surface
Dipping Sauce
6 Tbsp (89 ml) soy sauce
¼ C (59 ml) Chinese black vinegar, or balsamic vinegar
2 Tbsp (30 ml) sesame oil
2 Tbsp (31 g) chili garlic sauce
Cooking
22 round pot-sticker wrappers
2 Tbsp (30 g) vegetable oil
⅔ C (148 ml) water
Directions
Dumpling
Combine all ingredients thoroughly; set aside. Lightly dust surface with flour to lay assembled dumplings. To assemble dumplings, put 1 T (14 g) filling in center of a wrapper. Press lightly against work surface to form a flat bottom. Brush wrapper edges with water; fold in half; press to seal.
Dipping Sauce
Mix all sauce ingredients together well.
Cooking
Heat 1 T (15 ml) oil in a nonstick frying pan on medium high; swirling to coat bottom. Add half of the pot stickers seam side up and cook until bottoms are golden brown, about 3 minutes. Add ⅓ C (74 ml) water, cover, reduce heat and cook until water is absorbed, about 3 minutes. Remove from pan and repeat with remaining pot stickers. Serve with dipping sauce.
Prep time: 5 minutes.
Cook time: 12 minutes.
Makes 4 servings.