Pumpkin Soup
Since the first pumpkin seeds were brought to the Old World from the Americas, Europe has embraced squash-based cuisine. This easy recipe yields a full-bodied soup without using cream. The final flourish of candied walnuts, thyme and parmesan adds texture and complements the flavors exquisitely, and makes for a delightful seasonal fall starter or winter main course.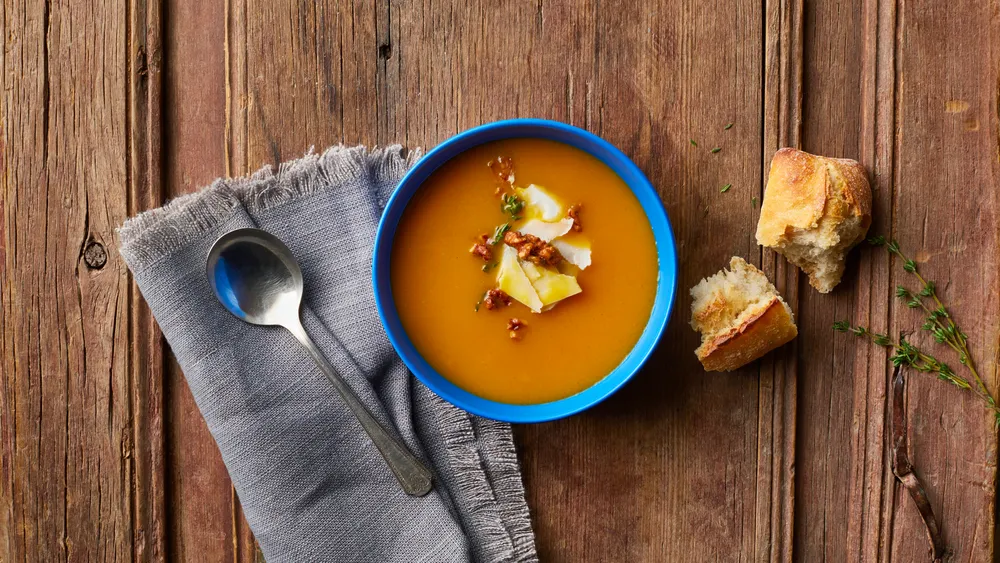 Ingredients
Soup
2 Tbsp (29 ml) olive oil
1 shallot, minced
1 med yellow onion, minced
2 29-oz (822-g) cans pumpkin purée
½ tsp (3 g) salt
¼ tsp (0.7 g) pepper
1 tsp (2.5 g) ground cumin
6 C (1420 ml) low sodium vegetable or chicken broth
¾ C (135 g) grated parmesan cheese
Plating
½ C (60 g) sour cream
¼ C (30 g) candied walnuts
Small thyme sprigs
Parmesan shavings
Directions
Soup
Sauté shallots and onions in olive oil in a large saucepan on medium high until soft, about 4–5 minutes. Stir in pumpkin, salt, pepper, cumin and broth. Bring to a boil, reduce heat; simmer 10 minutes. Remove from heat; stir in parmesan.
Plating
To serve, ladle into bowls and garnish.
Prep time: 5 minutes.
Cook time: 15 minutes.
Makes 6 servings.