French Onion Soup
This classic soup can be simply outstanding when made with a hearty homemade beef stock or broth, but in a pinch, purchased broth will still make a very good soup. The key to the dish is ensuring the onions caramelize well but do not burn.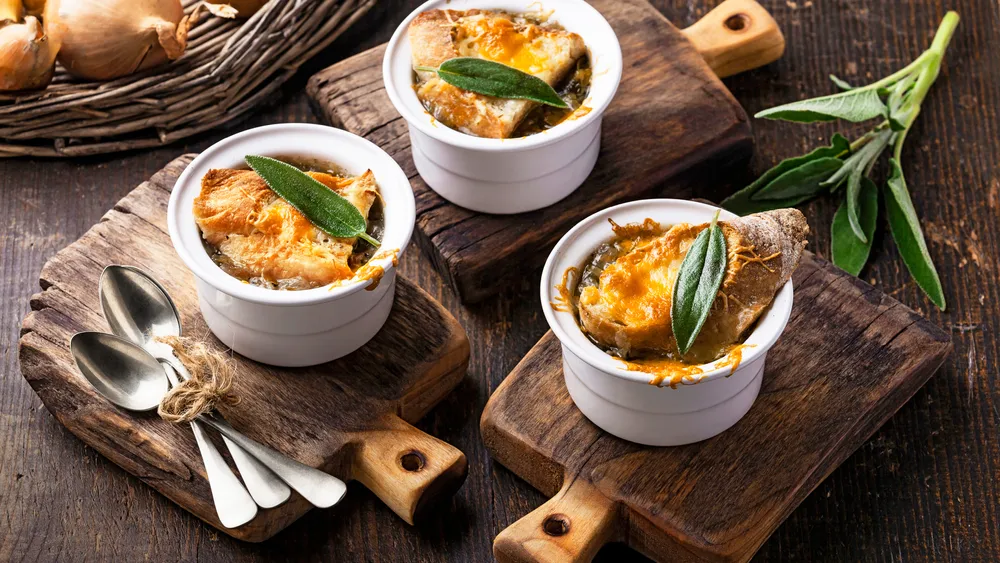 Ingredients
¼ C (57 g) unsalted butter
6 med yellow onions, sliced
1 tsp (4 g) sugar
1 Tbsp (8 g) flour
1 C (237 ml) dry white wine
4 C (946 ml) beef broth
Pepper to taste
6 ½-inch (1.3-cm) thick slices day-old French bread
2 C (241 g) grated Swiss cheese
½ C (90 g) grated Parmesan cheese
Directions
Melt butter in large Dutch oven over medium low; add onions and sugar; cover and cook, stirring occasionally, 30 minutes or until onions are soft but have not yet started to turn golden. Uncover pan, increase heat slightly and continue to cook, stirring regularly until onions are rich caramel color, 10–15 minutes. Whisk in flour until well blended; gradually add wine and cook, whisking constantly, until mixture boils and thickens. Whisk in broth and pepper; bring to boil. Reduce heat, cover and simmer 15 minutes. Ladle soup into six 1½-cup (400-ml) ovenproof bowls. Top each with bread slice; sprinkle with cheeses. Place bowls on baking sheet and place under broiler until cheese melts and bubbles.
Prep time: 10 minutes.
Cook time: 1 hour.
Makes 6 servings.