Viennese Potato Salad
This recipe employs beef broth, a typical ingredient that is the backbone of Viennese cooking. Beef broth and stock are used in Viennese cuisine for soups as well as basting. Red or Yukon gold potatoes tend to work best for this salad, because their waxy texture holds up well. For variety, you can also add thinly sliced pickles.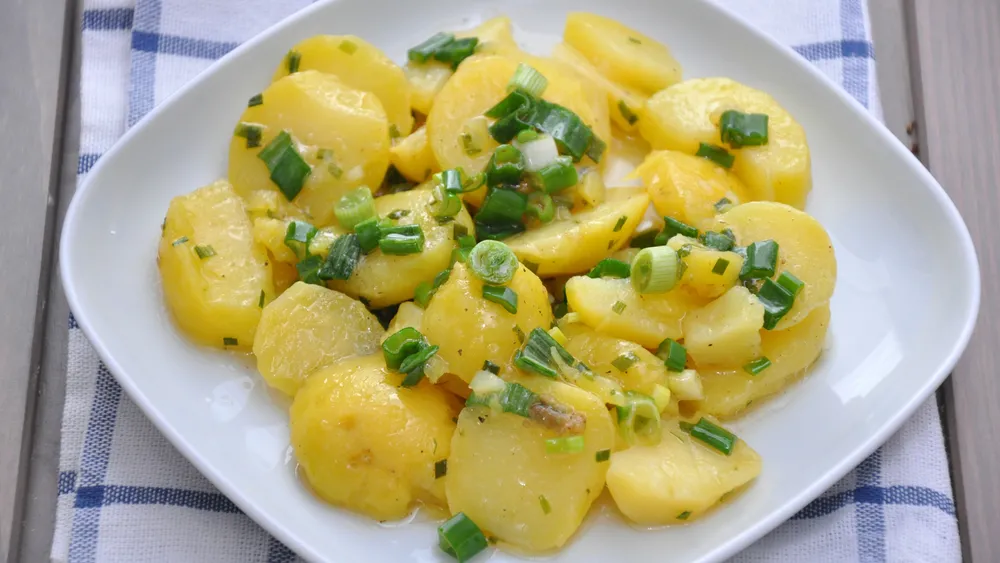 Ingredients
Potato Salad
1 lb (454 g) potatoes
1 C (237 ml) low sodium beef broth, warm
1 sm onion, chopped
2 Tbsp (30 ml) corn oil
1½ Tbsp (22 ml) vinegar
Salt and white pepper to taste
Pinch sugar
Plating
3 Tbsp (9 g) chives, chopped
Directions
Potato Salad
Boil potatoes until tender. Drain; while still warm, peel and slice into a large bowl; pour over warm beef broth. Gently fold in onion, oil, vinegar, salt, pepper and sugar.
Plating
Sprinkle with chives before serving.
Prep time: 6 minutes.
Cook time: 12 minutes.
Makes 5 servings.