Green Papaya Salad
In Cambodia, this is called Bok Lahong ("pounded papaya" in Khmer); in Vietnam, Goi Du Du (pronounced "guy dodo"); and in Thailand, it is known as Som Tam. However you say it, this delicate combination of contrasting flavors is refreshing and delicious. If you use all the chilies, this dish can be spicy, so feel free to adjust to your taste.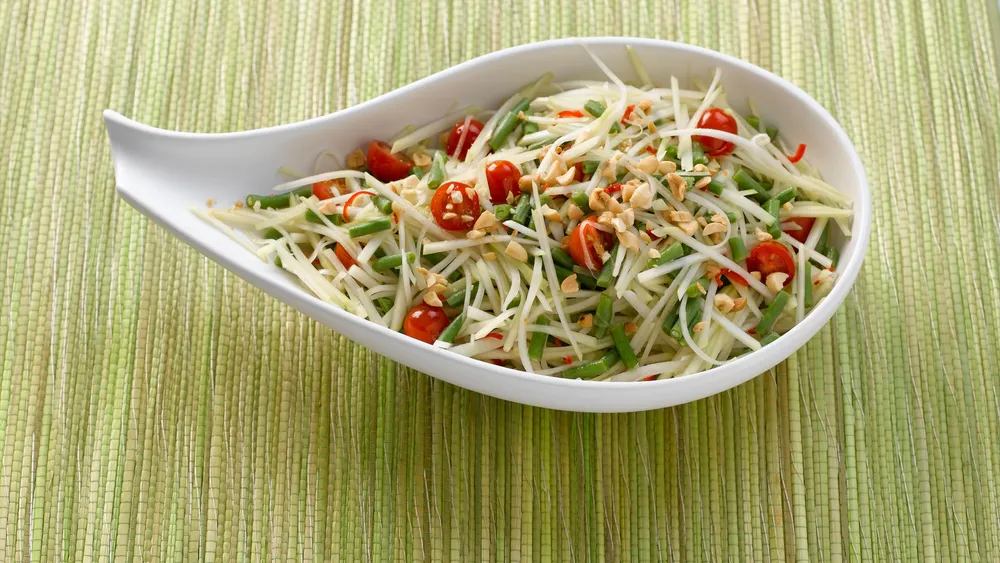 Ingredients
Dressing
4 Thai chili peppers
1 clove garlic
1½ tsp (9 g) shrimp paste
1 tsp (6 g) crab paste
3 Tbsp (11 g) salted crab
1½ Tbsp (22 ml) Thai fish sauce
Juice from 1 lime
¼ C (57 g) tamarind concentrate
3 Tbsp (41 g) palm sugar
⅓ C (78 ml) water
1½ C (224 g) cherry tomatoes, cut in half
Salad
2 C (290 g) green papaya, peeled, seeded and cut into thin strips
1 C (165 g) very firm mango, peeled, pitted and cut into thin strips
½ C (55 g) carrot, peeled and shredded
½ C (63 g) apple, cored and cut into thin strips
1 C (133 g) cucumber, shredded
2 Tbsp (18 g) peanuts, crushed
Directions
Dressing
In a mortar and pestle, crush chili peppers. Add garlic, shrimp and crab pastes, salted crab, fish sauce, lime juice and tamarind. Mix together sugar and water and add to chili mixture; blend well. Add tomatoes and lightly muddle.
*Try a well-stocked supermarket or Asian market for the regional ingredients, or you may substitute jalapeños for Thai chili; brown sugar for palm sugar; and soy or Worcestershire sauce for the fish sauce, crab and shrimp paste.
Salad
Place all salad ingredients except peanuts in a bowl; add peanuts and dressing; gently toss to combine. Serve immediately or chill for up to 1 hour.
Prep time: 18 minutes.
Cook time: N/A.
Makes 6 servings.