Louisiana Seafood Gumbo
This seafood and andouille medley is quintessential Louisiana fare. Serve it as an appetizer with French bread, or with rice for an entrée. The oil-based roux is a traditional thickener. Offer additional hot sauce for those who like it spicy. Add filé at the table, as gumbo can become bitter if it is added during cooking.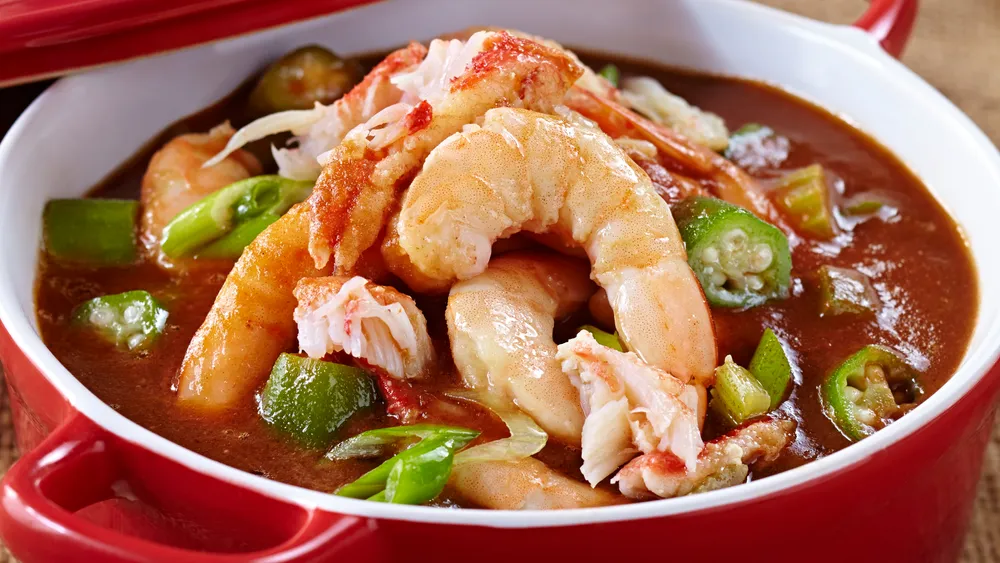 Ingredients
Stock
2 lb (907 g) med shrimp in shells
2 doz oysters in the shell, reserve liquid
1 lb (454 g) lump crabmeat
6 stalks celery, diced
3 med green bell peppers, diced
3 med yellow onions
1 bunch parsley, chopped
2 tsp (3 g) dried thyme, divided
4 bay leaves
2 Tbsp (20 g) garlic, chopped, divided
6 C (1420 ml) water
2 C (473 ml) dry white wine
Roux
1 C (237 ml) vegetable oil
1 C (125 g) flour
Gumbo
½ lb (227 g) andouille sausage, sliced
2 tsp (5 g) Creole seasoning
3 lg tomatoes, seeded and diced
1 lb (454 g) fresh okra, sliced ⅜ in (10 mm) thick
Salt and pepper to taste
Hot sauce to taste
2 C (322 g) cooked white rice, optional
Garnish
2 bunches green onions, tops only, sliced
Hot sauce to taste, Crystal or similar brand preferred
Filé to taste
Directions
Stock
Peel and devein shrimp, reserving shells for stock. Shuck oysters, draining and reserving liquid for seasoning. Pick over crabmeat, discarding any bits of shell. Dice celery and green peppers, reserving tops and bottoms for stock. Cut 1 onion into quarters; dice remaining onions and set aside. Chop parsley leaves, reserving stems for stock. Place shrimp shells, celery trimmings, bell pepper tops, quartered onion, parsley bottoms, 1 tsp (1.5 g) thyme, bay leaves, 1 T (10 g) garlic, water and wine in a heavy-bottomed pot. Bring to a boil over medium high heat; reduce heat and simmer for 1 hour. Strain through cheesecloth and reserve (refrigerate if made ahead). Alternately, you can substitute good-quality seafood bouillon.
Roux
Pour oil into a large heavy pot over medium heat. Slowly whisk in flour. Reduce to low, stirring continuously for 45–60 minutes or until roux becomes the color of chocolate and has a nutty aroma. Do not allow to burn; if you get black specs, the roux has burned and should be discarded, as it will ruin the taste of the dish. Remove from heat, cool and set aside; or if made ahead, refrigerate.
Gumbo
Place sausage in a large heavy-bottomed pot over medium heat and cook, stirring occasionally, until fat has rendered out, about 8 minutes. Add remaining onion, bell pepper and celery. Stir over medium heat until translucent, approximately 10 minutes. Add Creole seasoning and remaining thyme and garlic. Add reserved stock, tomatoes and okra; bring to a boil and slowly whisk in roux until desired thickness is achieved. Lower heat; simmer 30–45 minutes.
About 10 minutes before serving, add seafood and simmer until cooked through. Remove from heat and add reserved oyster liquid. Season with salt, pepper and hot sauce. Serve over rice.
Garnish
Garnish with remaining parsley leaves, green onions, hot sauce and filé.
Prep time: 1 hour.
Cook time: 3 hours.
Makes 12–14 servings.