Louisiana Jambalaya
A slow simmered dish highlighting the wonderful flavors of the bayou, Jambalaya is believed to be an adaptation of Spanish paella (using local ingredients) by early Louisiana settlers. If you can find andouille sausage, it adds an authentic flavor. You can also substitute crawfish or shrimp for chicken—just stir in at the end, cooking just until it is opaque.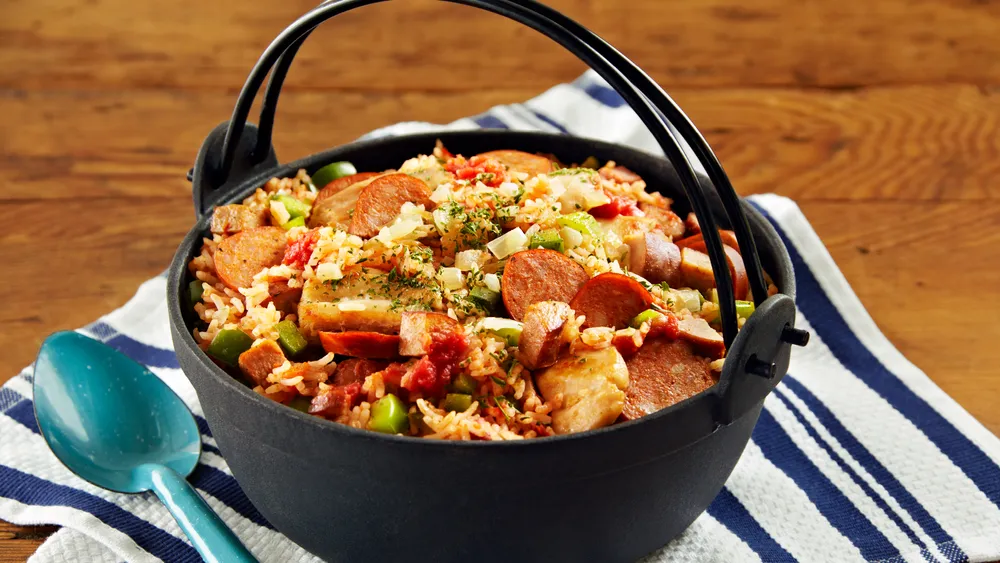 Ingredients
2 Tbsp (29 g) butter
1 lb (454 g) boneless chicken thighs, cubed
1 lb (454 g) andouille or smoked sausage, bias cut
2 med yellow onions, diced
1 med green bell pepper, diced
1 med red bell pepper, diced
6 stalks celery, diced
4 lg tomatoes, seeded and diced, or 3 8-oz (227-g) cans Rotel diced tomatoes
3 Tbsp (28 g) garlic, crushed
2 Tbsp (14 g) Cajun spices
2 tsp (8 g) crushed red pepper
1 Tbsp (15 ml) Worcestershire sauce
Crystal Hot Sauce, to taste
4 C (946 ml) low-sodium chicken broth
Salt to taste
2 C (421 g) uncooked white rice
6 green onions, chopped
Directions
In a Dutch oven, melt butter over medium high heat and add brown chicken on all sides. Add sausage; cook 10 minutes, stirring frequently. Add onions, bell peppers and celery; cook, stirring often, 10–15 minutes or until onions are golden. Add tomatoes, garlic, Cajun spices, red pepper, Worcestershire, hot sauce and chicken stock, stirring to combine. Bring to a boil, reduce heat; simmer 5 minutes. Add rice, stirring to combine. Cover and cook until rice is done, about 15 minutes. Top with green onion before serving.
Prep time: 15 minutes.
Cook time: 1 hour.
Makes 16 servings.