Linseneintopf (German Lentil & Sausage Stew)
The literal translation is "lentil pot" (linsen + eintopf), but the recipe results are magic. Chock-full of sausage, bacon and veggies, this hearty stew is a welcome winter meal. This German dish can cook largely unattended, with just an occasional stir once it gets going, and makes a substantial meal served with warm, crusty bread.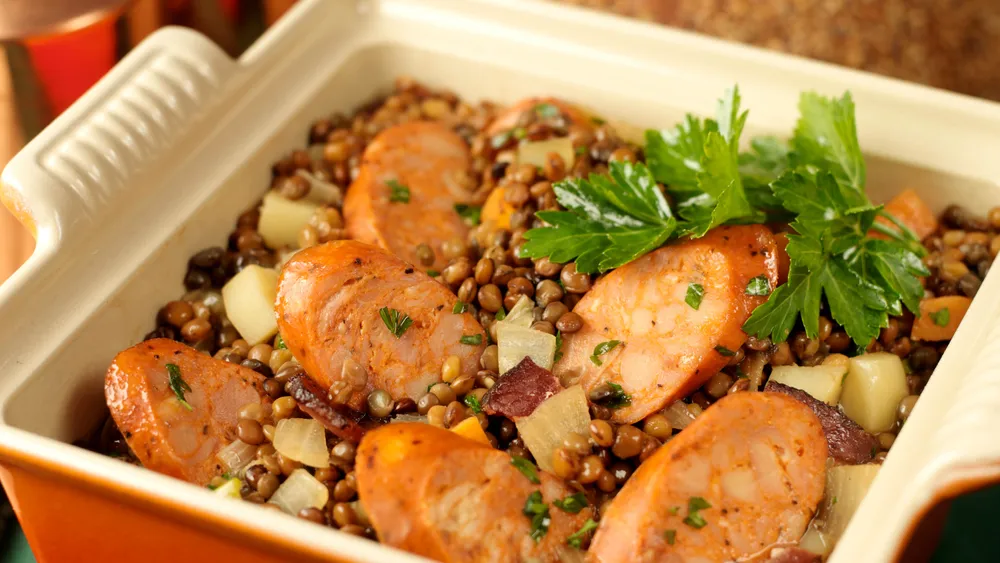 Ingredients
8 oz (227 g) lentils
6 oz (170 g) smoked bacon
1 Tbsp (17 g) tomato paste
2½ C (592 g) low sodium beef broth
2 med carrots, peeled and diced
1 med onion, diced
2 med leeks, white and pale green parts only, diced
1 lg white potato, diced
¼ C (10 g) parsley, chopped
3 precooked smoked sausages, sliced
Apple cider vinegar, salt and pepper to taste
Directions
Clean and rinse lentils and place in a medium saucepan with bacon, tomato paste and broth. Add water to generously cover lentils; bring to a boil over high heat. Reduce heat; simmer about 30 minutes or until lentils are tender but still intact. Add carrots, onion, leeks and potato; simmer 20 minutes more. Remove bacon, dice and return to soup. Add parsley, sausage, vinegar, salt and pepper and serve hot.
Prep time: 8 minutes.
Cook time: 50 minutes.
Makes 6–8 servings.