Belgian Endive & Ham Au Gratin
So valued is the Belgian endive by Belgians that they refer to it as "white gold." A tad bitter when raw, the sleek, compact heads mellow in flavor when cooked. This elegant dish of ham and Belgian endive broiled in a rich cheese sauce is a perfect cold weather dish as well as a great accompaniment for fish.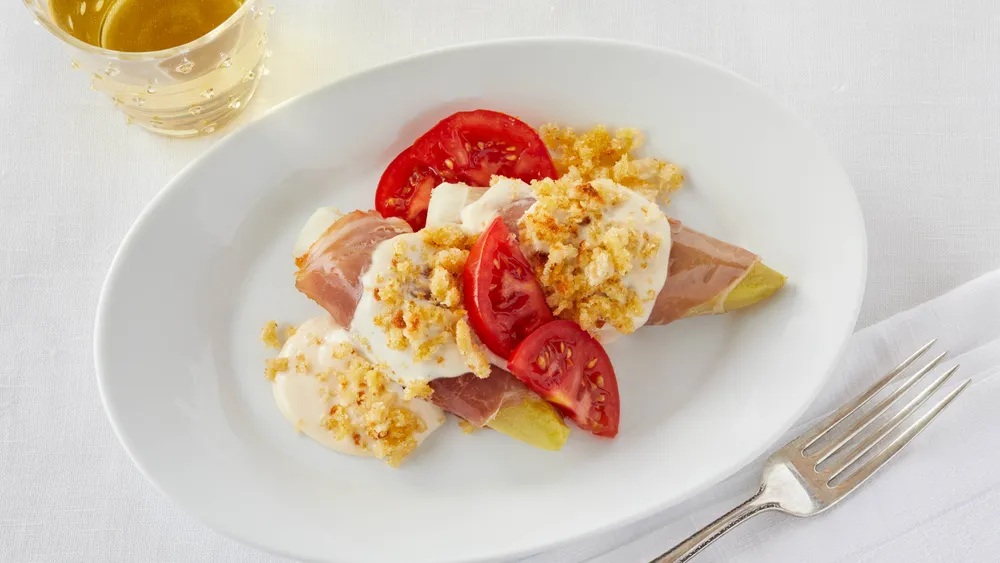 Ingredients
8 sm head Belgian endives
Salt for boiling
1 tsp (5 ml) lemon juice
8 cooked ham, thinly sliced
¼ C (57 g) unsalted butter
¼ C (31 g) flour
1½ C (355 ml) milk
¼ C (30 g) cheddar or Gruyère cheese, shredded
¾ C (44 g) fresh breadcrumbs
2 med tomatoes, sliced
Directions
Trim endive bottoms and remove any outer leaves if necessary. Boil endives in salted water with lemon juice about 15 minutes until just tender. Reserve 3 T (44 ml) of cooking water, then drain remaining water well. Wrap each endive in a slice of ham; put into a baking dish. Melt butter in a medium saucepan over medium; remove from heat, stir in flour, then return to heat and cook 3 minutes, stirring frequently. Whisk in milk and cook over low, stirring constantly until thickened, about 4 minutes; stir in reserved cooking water. Add cheese, stirring until melted and sauce is smooth. Pour over endive; top with crumbs; brown under broiler. Garnish top with sliced tomatoes and serve hot.
Prep time: 5 minutes.
Cook time: 25 minutes.
Makes 4 servings.