Tarte Au Citron
This refreshing open-faced tart is similar in flavor to a lemon meringue pie without the meringue. It is usually dusted with powdered sugar to offset the tartness of the lemon. You can also top it with a few fresh raspberries for an elegant look, and should you want even more lemony flavor, add some lemon zest into the filling.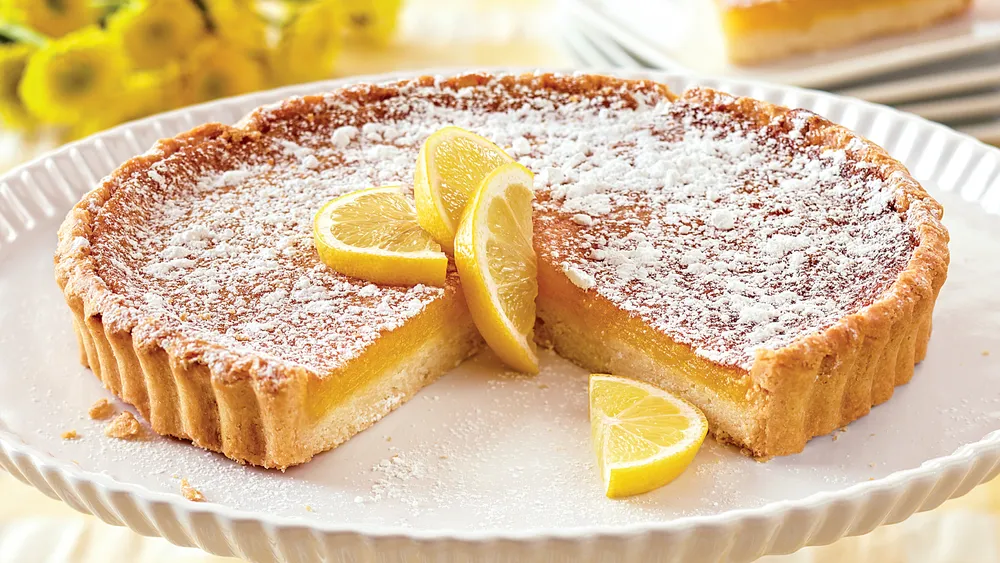 Ingredients
Pastry
7 Tbsp (100 g) unsalted butter, at room temperature, plus extra for greasing
½ C (96 g) sugar
1 C (125 g) flour, plus extra for dusting
Pinch of salt
Filling
3 lg eggs
3 lg egg yolks
⅔ C (20 g) fresh lemon juice
10 Tbsp (143 g) unsalted butter, at room temperature
¾ C (144 g) sugar
Directions
Pastry
Preheat oven to 300°F (149°C). Grease a 9-inch (22 x 4 cm) tart pan with a removable bottom. Place pastry ingredients in a bowl; knead lightly to combine. Cover and refrigerate at least 30 minutes, then place chilled dough on a floured surface and roll out ⅛ inch thick. Transfer to tart pan; pierce bottom with a fork; chill.
Filling
Meanwhile, whisk together eggs and egg yolks in a small bowl. In a medium saucepan, stir together lemon juice, butter and sugar over low heat until butter has melted and mixture is combined. Pour a little of this mixture into bowl with eggs, stirring constantly; then pour egg mixture back into pan and stir constantly over low heat until mixture thickens and begins to bubble around edges. Pour into tart shell; bake 30 minutes or until top is golden.
Garnish
Dust with confectioners' sugar prior to serving.
Prep time: 30 minutes.
Cook time: 30 minutes.
Makes 8 servings.