Mississippi Mud Pie
This pie is pure decadence, with chicory coffee ice cream, fudge brownie cake, Oreo cookie dust and a drizzle of chocolate sauce topped with candied pecans and whipped cream. This is a spectacular treat for special occasions that celebrates the best of sweet Southern flavors. Of course, if you prefer, you can make your brownies from scratch.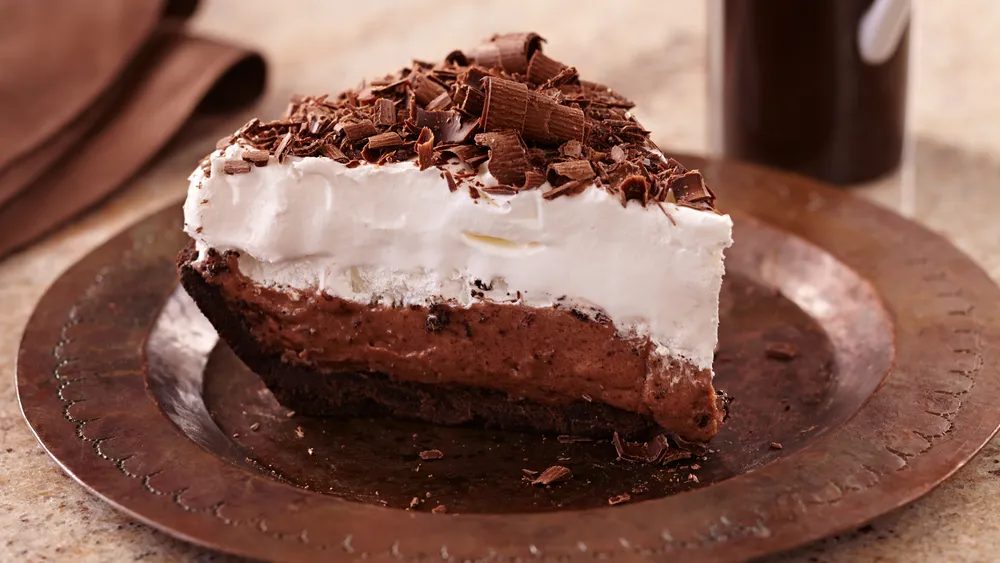 Ingredients
Chocolate Sauce
8 oz (227 g) unsweetened chocolate
½ C (101 g) brown sugar
½ C (118 ml) heavy cream
⅔ C (148 ml) cane syrup
3 Tbsp (43 g) unsalted butter
1 tsp (5 ml) vanilla extract
Praline Marshmallow Cream
2 lg egg whites, room temperature
½ C (118 ml) light corn syrup
⅛ tsp (0.6 g) salt
½ C (65 g) confectioners' sugar
½ Tbsp (10 ml) praline liqueur
Assembly
1 qt (946 ml) butter pecan ice cream, softened
2 Tbsp (30 ml) chicory coffee liqueur, such as Bittermens
4 oz (113 g) Oreo cookie crumbs
4 oz (113 g) candied pecan pieces
Plating
½ C (118 ml) heavy cream, whipped
4 oz (113 g) Oreo cookie crumbs
4 oz (113 g) candied pecan pieces
2 oz (57 g) white chocolate shavings
Directions
Base
Prepare the brownies according to package directions in a 2-inch-deep (5.1-cm) baking pan; cool in pan to room temperature.
Chocolate Sauce
Melt chocolate in double boiler, stirring until smooth. Add brown sugar, cream and cane syrup; reduce heat to low; stir until smooth and blended; remove from heat. Add butter and vanilla, stirring until completely combined. Set aside.
Praline Marshmallow Cream
Beat egg whites, corn syrup and salt with an electric mixer on high 4–5 minutes until soft peaks form. Reduce speed to medium; beat in confectioners' sugar until completely combined. Reduce speed to low; beat in liqueur. Set aside.
Assembly
In a large bowl, combine ice cream, chicory coffee liqueur and half of reserved chocolate sauce; set aside. Spread a layer of marshmallow cream on top of brownies, sprinkle with half of Oreo crumbs and candied pecans. Spoon ice cream mixture on top about 1 inch (25 mm) thick; smooth top. Repeat layers. Freeze until firm (at least 2 hours).
Plating
Serve slices with remaining chocolate sauce and whipped cream, garnished with Oreo crumbs, candied pecan pieces and white chocolate shavings.
Prep time: 20 minutes.
Cook time: 60 minutes.
Makes 20 servings.