Bread Pudding With Warm Bourbon Sauce
This Southern bread pudding is rich and elegant, with the distinctive taste of Steen's cane syrup. Bourbon, another American flavor, is woven throughout both the pudding and the sauce. Bourbon came under heavy regulation in 1897 with the Bottle in Bond Act, which required the spirit to be made from only one distillation season, one distiller and one distillery.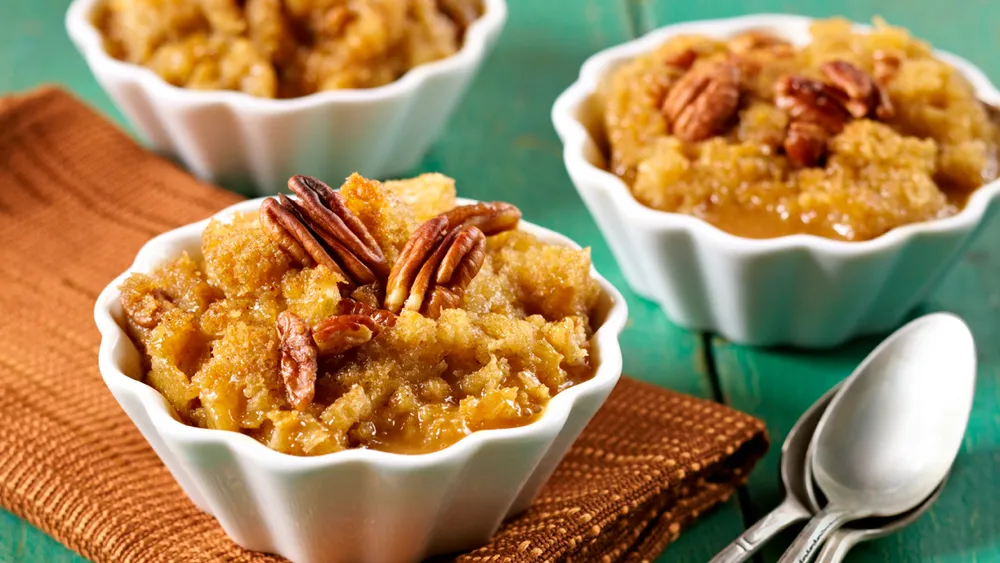 Ingredients
Pudding
½ C (75 g) raisins
3 Tbsp (45 ml) bourbon
6 lg eggs
1½ C (300 g) light brown sugar
3 C (720 g) heavy cream
2 tsp (8.5 g) vanilla extract
1 tsp (2 g) nutmeg
1 tsp (3 g) cinnamon
1 lb (0.5 kg) day-old French bread, broken into 1-inch (2.5 cm) cubes
6 oz (170 g) butter, melted
Sauce
3 Tbsp (45 g) butter
¼ C (50 g) light brown sugar
1 C (240 g) heavy cream
¼ C (80 g) Steen's cane syrup
3 Tbsp (45 ml) bourbon
Directions
Pudding
In a pan over low heat, warm raisins in bourbon for 5 minutes; remove from heat; set aside. In a large mixing bowl, whisk together eggs and sugar, then whisk in cream, vanilla, nutmeg and cinnamon. Place bread cubes in egg and cream mixture, press down lightly, stir gently, cover and let stand in refrigerator for 1 hour. Preheat oven to 350˚ (176°C); grease a 13x9-inch (30x20x5 cm) baking dish. Remove bread mixture from refrigerator; add raisin bourbon mixture and half of butter, stirring gently. Place in baking dish, and bake 35–45 minutes or until a knife inserted into the center comes out clean. Brush top with remaining butter. Serve warm with warm sauce.
Sauce
Melt butter in a small saucepan; whisk in sugar until incorporated, then add cream and cook 3–5 minutes until thickened. Blend in cane syrup and bourbon.
Prep time: 20 minutes.
Cook time: 35–45 minutes.
Makes 12 servings.