Creamy Cognac Prawns
Try this recipe to share the taste of France with friends and family. It is a delicious mixture of shrimp sautéed with shallots and sundried tomatoes in a creamy Cognac sauce. Excellent served with pasta or over rice, add a light salad to offset the richness, and a side of warm, crusty bread.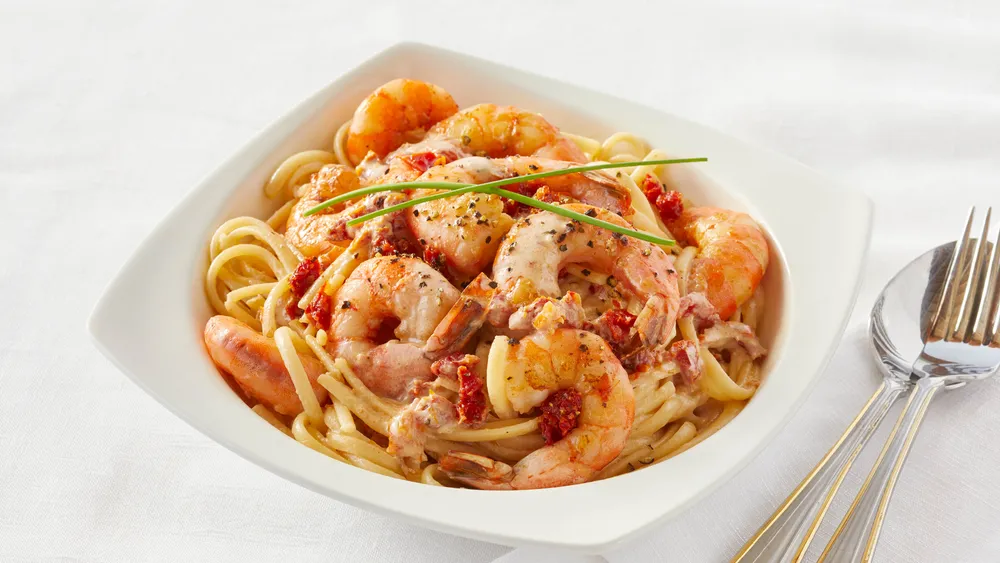 Ingredients
1 Tbsp (14 g) unsalted butter
1 Tbsp (13 g) olive oil
2 cloves garlic, minced
½ C (120 g) shallots, thinly sliced
1 lb (0.5 kg) prawns, peeled & deveined
Pinch red pepper flakes
¼ C (38 g) sundried tomatoes, packed in oil, drained & diced
½ C (118 ml) Cognac
½ C (118 ml) half-and-half
Salt and pepper to taste
Directions
Heat butter and olive oil in a skillet over medium heat. Add garlic and shallots and cook, stirring frequently, until golden. Increase heat to high; add prawns, red pepper flakes and sundried tomatoes and cook, stirring frequently, for 5 minutes or until shrimp is opaque and lightly golden. Transfer shrimp to a plate; cover to keep warm. Increase heat to high; add Cognac, stirring to loosen browned bits from bottom. Reduce heat to low and stir in half-and-half. Let simmer for 5 minutes or until sauce is slightly thickened. Fold in shrimp and serve immediately over pasta or rice.
Prep time: 5 minutes.
Cook time: 15 minutes.
Makes 4 servings.