Chicken Lettuce Wraps
Light and low-carb, these wraps are great as an appetizer, or they can be an entrée themselves. Try variations like substituting other kinds of meat for the chicken. Or you can leave the meat out if you want a vegetarian option, in which case increase the quantity of mushrooms, add tofu and bamboo shoots to round out the filling.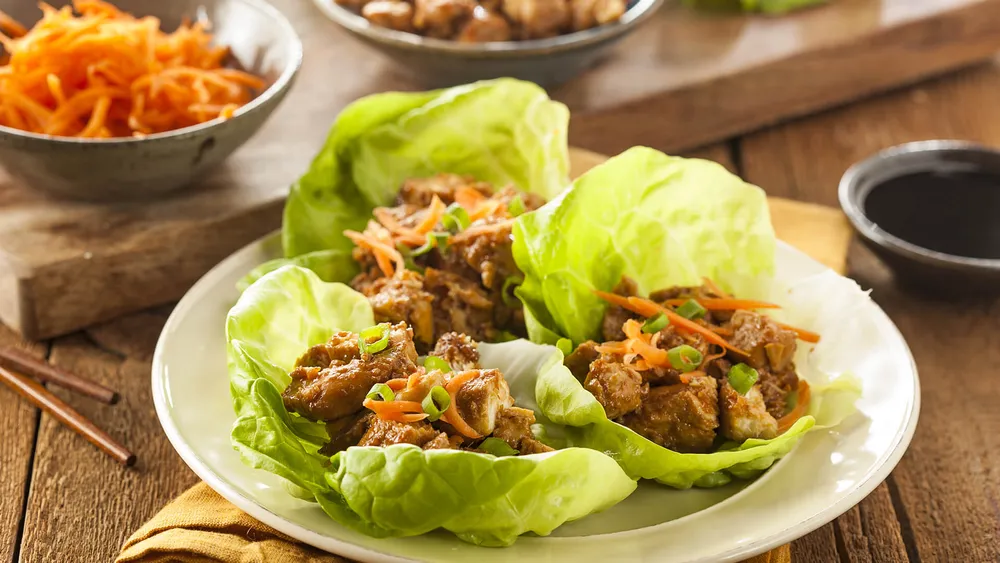 Ingredients
Filling
2 dried black mushrooms
1½ tsp (5 g) cornstarch
2 tsp (10 ml) Chinese rice wine or dry sherry
½ lb (454 g) ground chicken
1 Tbsp (15 ml) vegetable oil
1 tsp (5 g) minced ginger
1 clove garlic, minced
½ med red bell pepper, seeded and finely chopped
½ C (80 g) water chestnuts, finely chopped
2 tsp (1.5 g) fresh cilantro, chopped
Sauce
¼ C (60 ml) hoisin sauce
2 tsp (10 ml) soy sauce
1½ tsp (9 ml) chili garlic sauce
1 tsp (5 ml) toasted sesame oil
Wrap
8 med iceberg or butter lettuce leaves
Directions
Filling
Soak mushrooms in warm water 15 minutes until softened; drain, discard stems; chop caps. Whisk together cornstarch and wine in a small bowl; add chicken; let stand 10 minutes. Heat a wok or skillet over high heat until hot. Add oil; swirl to coat all sides. Add ginger and garlic and cook, stirring constantly, until fragrant, about 15 seconds. Add chicken mixture and cook, stirring constantly, for about 2 minutes, or until crumbly and no longer pink. Add bell pepper, water chestnuts and mushrooms and cook, stirring constantly, for 1–2 minutes until bell pepper is soft. Stir in cilantro; remove from heat. Combine all sauce ingredients in a bowl and mix well. To serve, arrange lettuce on a plate. Place chicken mixture and sauce in separate serving bowls. Each person can make their own wrap by spooning chicken mixture into lettuce leaves and drizzling sauce on top. Fold the lettuce around the filling and enjoy.
Prep time: 35 minutes.
Cook time: 4 minutes.
Makes 4 servings.